Invader
The lowdown on Invader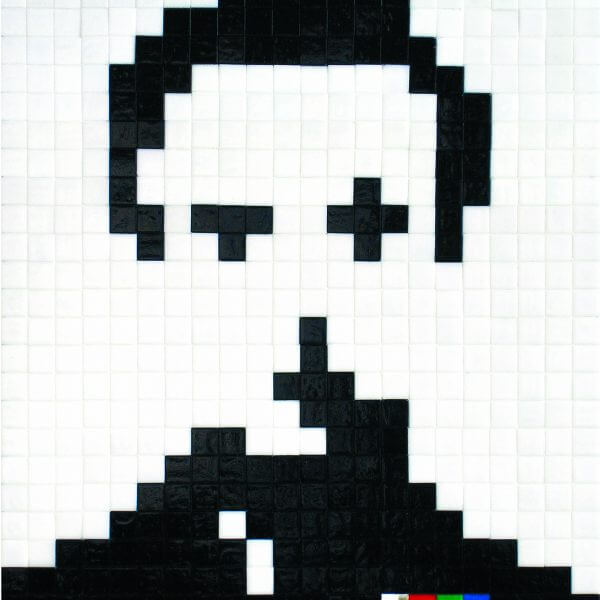 Paris, France
Invader (French, b.1969), also known as Space Invader, is an Urban artist originally based in Paris. He affixes mosaic images of characters from the 1970s video game "Space Invaders" in cities around the world. Once a work is completed, Invader records it as an "invasion" and creates accompanying maps and reference books to indicate the location of each piece. Invader began these urban, outdoor installations in Paris in 1998, and continued to "invade" 31 other cities in France, followed by an additional 22 cities across Europe. Currently, cities in the United States, Canada, Asia, and Australia are also home to examples of Invader's work.

The mosaics are made using weather-resistant tiles, which represent the pixels used for graphics in early video and computer games. The installation process typically takes at least one week, including scouting, recording, and mapping locations. One of the most conspicuous locations to feature works by Invader is the landmark Hollywood Sign in California; the first mosaic work was mounted on the "D," on December 31, 1999. In addition to mosaics, Invader creates similarly pixelated works using Rubik's Cubes. Since 2000, Invader's works have been featured in galleries around the world, and he gained even greater popularity and renown after he was featured in the 2010 documentary film about Street Art, Exit Through the Gift Shop.

Some people call me a polluter, others say I'm an artist. I prefer to think of myself as an invader!
Pieces by Invader
Sorry, there are no "Space Invader - Ohh ... Alright Print" left. All others are either sold or being held in other buyers carts. Buyers have 90 minutes to checkout, after which it may become available again.
Showing all 47 results
Latest from Instagram about Invader
Latest from the Blog about Invader
Credit: Invader image (top of page) courtesy of kurtxio. All Rights Reserved.