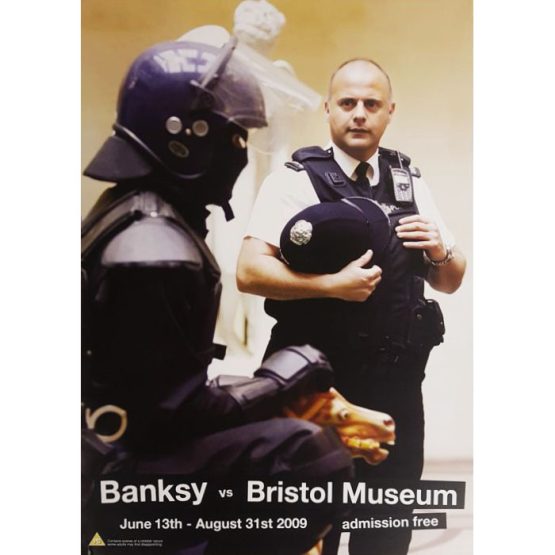 Banksy – 'Banksy vs Bristol Museum' Riot Coppers
Medium: Offset lithograph in colors
Edition: Unknown
Size: approx. 42 x 59,5cm
Year: 2009
Condition: Very good
Description: Official poster for the 'Banksy vs Bristol Museum' 2009 exhibition
Only 1 left in stock
Description
In the summer of 2009 Bristol Museum & Art Gallery was taken over by an extraordinary exhibition of works by the infamous Bristol artist Banksy called Banksy versus Bristol Museum.
Overnight the museum was transformed into a menagerie of Unnatural History – fish fingers swimming in a gold-fish bowl, hot-dogs and chicken nuggets. Paintings were placed in amongst the historical collections of Old Masters, sculptures and other pieces dotted around throughout the museum displays.
The main entrance was transformed into a sculpture hall, accompanied by a burnt-out ice-cream van that pumped out an eerie sound-track of warped tunes, whilst a giant ice-cream melted on its roof.
These Original posters were issued to celebrate the Banksy vs Bristol Museum exhibition that ran from June 13th to August 31st in 2009.
The 4 official Banksy posters released are;
Banksy vs Bristol Museum 2009 Klansman Poster
Banksy vs Bristol Museum 2009 Dorothy Poster
Banksy vs Bristol Museum 2009 David Poster
Banksy vs Bristol Museum 2009 Riot Copper Poster
---