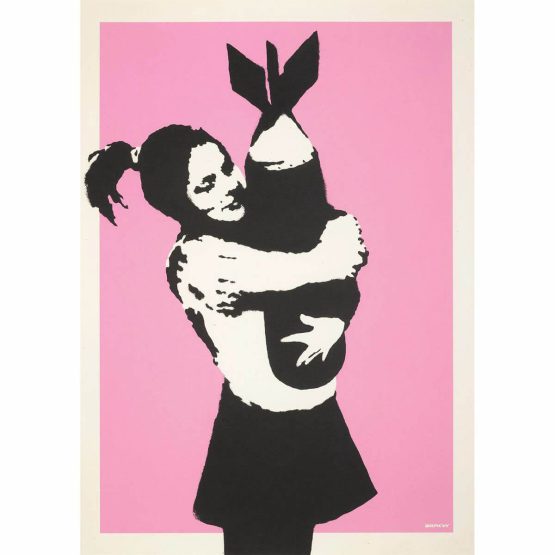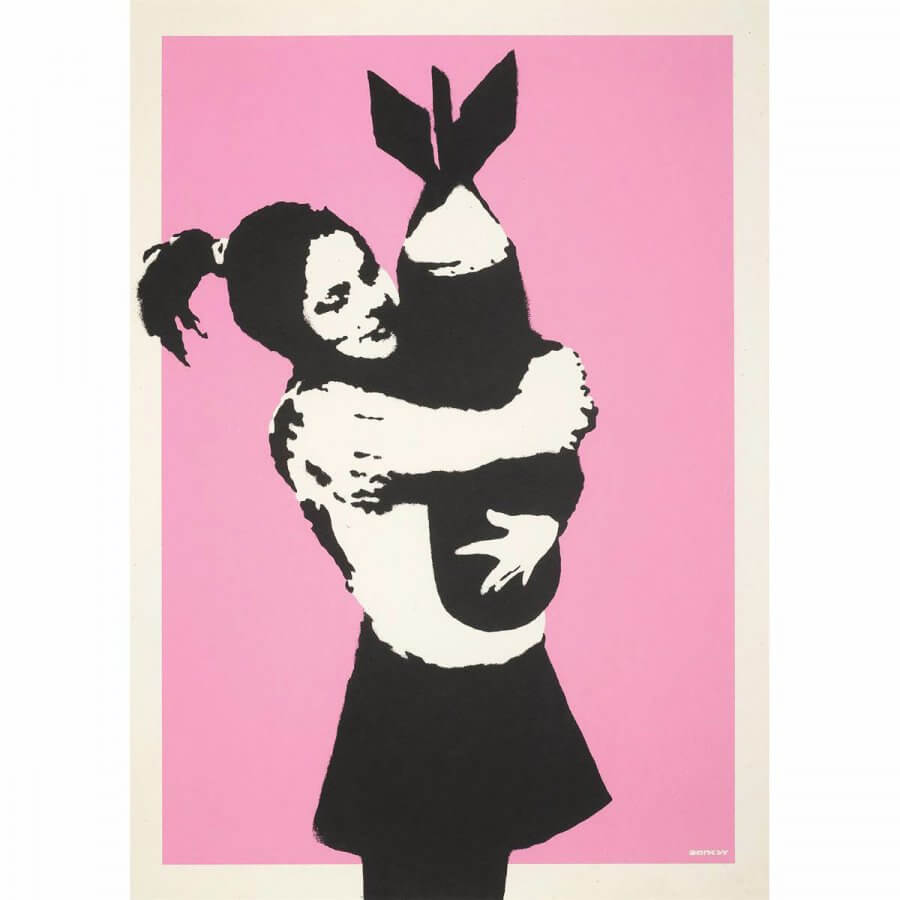 Banksy – Bomb Love (Signed) Print
Medium: screen print in colours on wove paper
Edition: 150
Size: 70 x 50cm
Description: Signed & numbered by Banksy. Supplied with a Pest Control Certificate of Authenticity.
Year: 2003
Condition: Very good, no condition issues.
Contact us for more information on how to purchase this piece.
Only 1 left in stock
Description
Banksy's Bomb Love, also known as Bomb Hugger, is a well-known piece of street art that has gained worldwide fame. This artwork depicts a young girl embracing a bomb, highlighting the stark contrast between innocence and violence in our society. Through this artwork, Banksy invites viewers to reflect on the impact of war and the role of love in overcoming destruction.
Banksy created several original pieces based on this iconic stencil at the Existencilism exhibition in Los Angeles in 2002. The black and white stencil first appeared in east London in 2001, in Bristol, and then in Brighton in 2003. Since then, it has become one of the most sought-after motifs among collectors and art enthusiasts worldwide.
Interestingly, Banksy also used the concept of 'Bomb Love' for a series of placards during a protest against the Iraq War in 2003. Most of the placards were discarded after the event, but one was sold in 2017 for £10,000 by Rowleys in Suffolk.
Through his anonymous activism, Banksy aims to raise awareness and inspire change. The Bomb Love stencil is a testament to Banksy's mission and serves as a reminder of the power of art to provoke thought and inspire action.
In the midst of protests against the Iraq invasion, Banksy unveiled a screen print titled 'Bomb Love' featuring a vibrant pink backdrop reminiscent of bubble gum. The prints were released through Pictures on Walls, Banksy's UK-based printing house. A total of 750 prints were made available, comprising 150 signed copies and 600 unsigned ones.
---