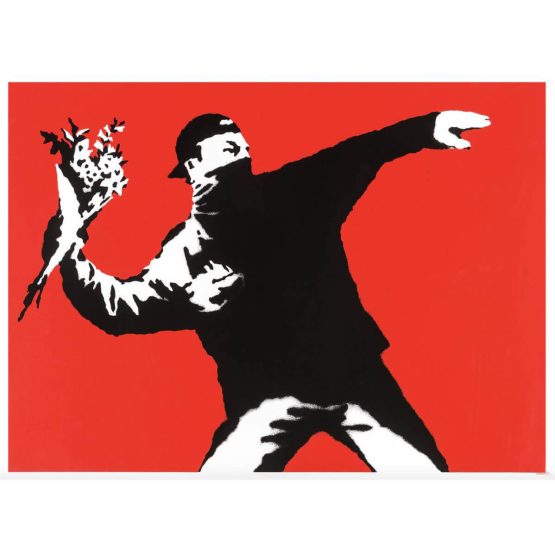 Banksy – Love is in the Air (Signed) Print
Medium: 2 colour screen print
Edition: 100
Size: approx. 76.5 x 57cm
Description: Signed, numbered and comes with full pest control authentication
Year: 2003
Condition: Very good.
Contact us for more information on how to purchase this piece.
Description
Banksy's 'Love is in the Air,' also known as 'Flower Thrower,' is a striking mural that he painted directly onto the 760km West Bank Wall that separates Israel from Palestine in 2003. In Banksy's own words, the wall "essentially turns Palestine into the world's largest open prison."
The mural depicts a militant figure wearing a baseball cap and a bandana, holding a bouquet of flowers instead of a weapon, symbolising the need for peace and love rather than violence.
Banksy's commitment to social justice in the region is evident in his work, as he returned to the area in 2005 to paint nine more murals advocating for freedom and equality for Palestinians. In 2014, he visited the Gaza Strip to draw attention to the people's plight. Banksy's contribution to the region's art scene is not limited to his murals, as he opened the Walled Off Hotel in Bethlehem in 2017, which displays a triptych of his famous 'Love is in the Air / Flower Thrower,' decorated with real dried flowers.
The original print edition of the artwork, released in 2003, included 500 copies, around 50 of which were signed. The artwork is highly sought after by art collectors worldwide, and it is featured in Banksy's book, 'Wall and Piece.'
---