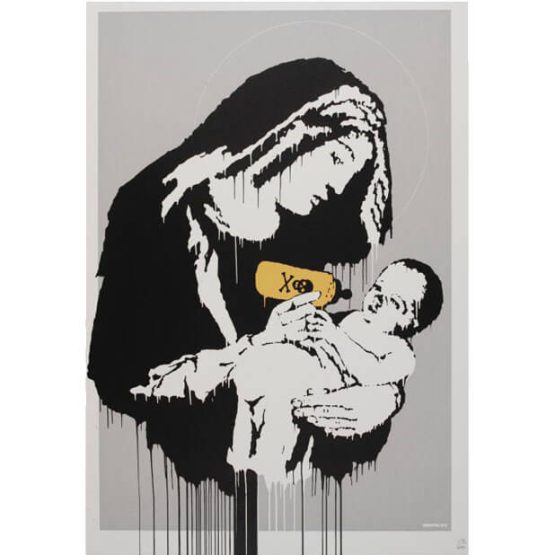 Banksy – Toxic Mary Print (Unsigned)
Medium: Screen print in colours on wove paper
Edition: 600
Size: 50x70cm
Description: Comes with full pest control certificate of authenticity (COA)
Year: 2004
Condition: Very Good. A condition report is available on request.
Contact us for more details to purchase this artwork.
Description
Banksy's "Toxic Mary" is a remarkable piece of art that merges the traditional Renaissance style with a modern and dark twist. The artwork features the Madonna and Child, a subject explored artistically for centuries and holds significant religious value.
Banksy has added a sinister and unusual element to the well-known imagery in "Toxic Mary". In the painting, the infant is fed from an orange bottle with the skull and crossbones symbol, commonly associated with dangerous and poisonous substances. This suggests the child is being subjected to something toxic instead of nourishing milk. Banksy's use of paint drips in the artwork adds to the overall impression of the subjects slowly melting away.
The painting's composition effectively serves as a critical commentary on religion. Banksy's opinion on the toxicity of family relationships is also apparent in the artwork.
The artwork was initially displayed at Banksy's Turf War exhibit in London in 2003 and sold as a 150-edition signed print for £150 and a 600-edition unsigned print for £74.99. Attendees at Santa's Ghetto in Palestine had the opportunity to purchase unique colourways of the artwork in 2007 for $10,000.
The image is highly sought after by art collectors worldwide.
---