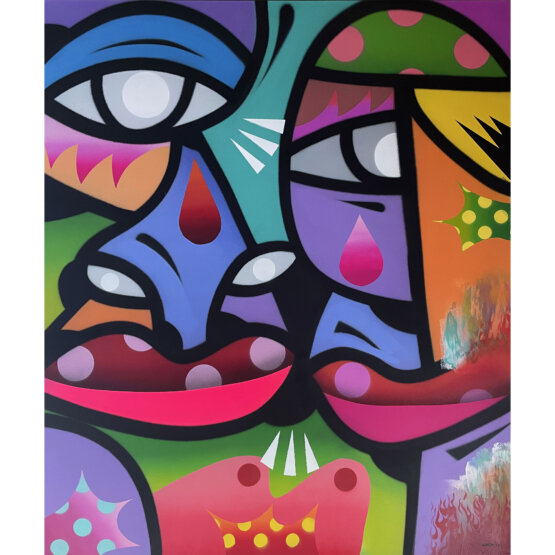 Hunto – Smile Reflection 1/1
Medium: Spray paint on canvas
Edition: 1/1
Size: 100 x120cm
Description: Part of the "With My Thoughts" series. Signed by The Artist
Year: 2021
Only 1 left in stock
Description
Italian artist Hunto has been a prolific contributor to the street art scene in Shoreditch for many years. His art expresses love and passion, promoting a sense of captivating and alluring sensuality. Hunto's signature style is a masterful blend of vivid colours and bold shapes, creating a striking, edgy, raw aesthetic.
Drawing on his early days as a graffiti artist, Hunto's art is imbued with a sense of energy and movement that is both dynamic and engaging. He uses a quick and colourful approach to create his works, often incorporating bold lines and intricate patterns to create a sense of depth and dimensionality.
Moreover, Hunto is known for his love of heights, scaling tall buildings and structures to create larger-than-life murals that are a testament to his unbridled creativity and artistic prowess. Walking through the vibrant streets of Shoreditch, it's impossible not to notice the influence of Hunto's art. His works can be found in every nook and cranny of the area, adorning walls and buildings; with his unique style and bold approach, he has established himself as a true master of the street art genre.
---