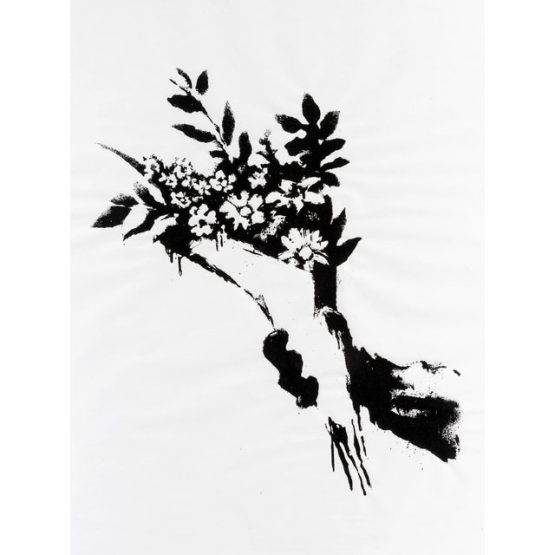 Banksy – GDP Flower Thrower
Medium: Screen print on 50gsm paper
Edition:  During the Banksy Gross Domestic Product show in Croydon, a limited number of 'GDP Flower Thrower' were distributed to children under the age of 16 at random intervals. The exact quantity of these items is unknown, but they are considered to be rare and difficult to come by in good condition.
Size: approx. 76,5 x 57,5cm
Year: 2019
Condition: Very good; the paper has naturally occurring waves from the screen printing process.
Only 1 left in stock
Description
Banksy opened a homewares store called "Gross Domestic Product ™" in Croydon, London (2019), featuring a unique selection of items designed by Banksy. The store offered homewares and lifestyle products, including mugs, doormats, and rugs, all with Banksy's signature style.
The store was created in response to legal action against Banksy by a greeting card company attempting to take legal custody of the artist's name.
Gross Domestic Product also features thought-provoking items like the 'diabetes-riddled corpse of Tony the Tiger' rug, which highlights the impact of sugary cereals on children's health, a selection of T-shirts, including the 'Girl with Balloon' tee and the infamous shredded version, which serves as a commentary on fast fashion and its impact on the environment. Throughout the store, Banksy addresses significant social issues affecting our world today, including forced human migration, animal welfare, the impact of fast fashion on the environment, the climate crisis, the 'Rat Race' we live under and living in a state under constant surveillance.
The store was open for two weeks and was a window shopping experience only. Banksy randomly released various unsigned screen prints on 50gsm paper 'GDP Rat', 'GDP Flower Thrower' and 'Crisis as Usual' to children under 16 attending the store.
---