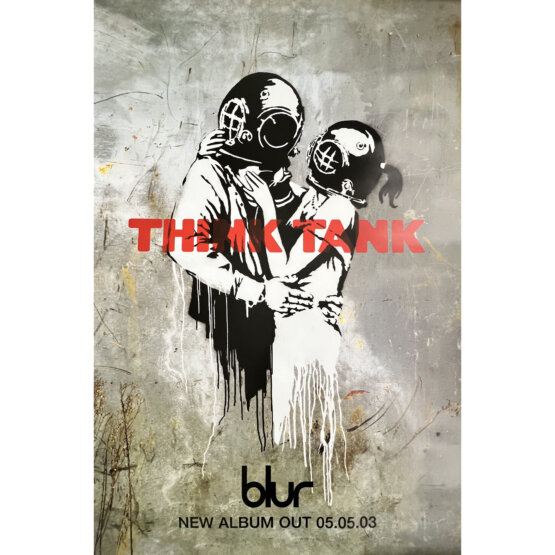 Banksy – Think Tank Bus Stop XL
Medium: Offset lithograph in colour
Edition: Unknown, very rare.
Size: approx. 100 x 150cm
Year: 2003
Condition: Very good
Description: Official bus stop promotional poster
Only 1 left in stock
Description
Blur's album "Think Tank" was released 20 years ago and featured artwork designed by Banksy.
Banksy, who usually avoids commercial work, accepted the commission to design the album cover and stated that the collaboration could be symbiotic. The album's cover art depicts a couple embracing each other wearing vintage deep-sea diving helmets, symbolising the album's 'tank' reference.
The album's theme revolved around the complex themes of "love and politics," with powerful anti-war messages recurring throughout the tracks.
The artwork of the album has been the subject of multiple interpretations, each offering a unique perspective on its meaning. Some suggest it serves as a powerful commentary on the themes of love and politics the album explores.
The helmets depicted in the artwork could be seen as symbolic of the barriers that hinder genuine human connections, while the kiss may represent the desire to overcome these barriers and connect on a deeper level.
Alternatively, the "Make Love, Not War" slogan that emerged as part of a counterculture movement in 1960s America rejected the Vietnam War and promoted love and compassion as alternatives to violence. This slogan became a powerful symbol of the movement, which rejected traditional values and embraced a more liberated lifestyle that included free love. For many young Americans, free love represented a way to reject the capitalist culture that they believed supported war and violence.
Ultimately, the "Make Love, Not War" slogan was adopted by anti-war activists around the world as a message of hope and love in the face of conflict and destruction.
The collaboration between Blur and Banksy for the "Think Tank" album cover exemplifies the synergy that can result from diverse artistic forms and individuals working together to produce a thought-provoking and consciousness-raising piece.
The cover art gained immense popularity among art enthusiasts and was sold at auction for £75,000 in 2007.
Additionally, We also have the 'Think Tank' 12″ record album in store.
Read more about the meaning behind "Banksy x Blur's Think Tank Album Cover" here.
---