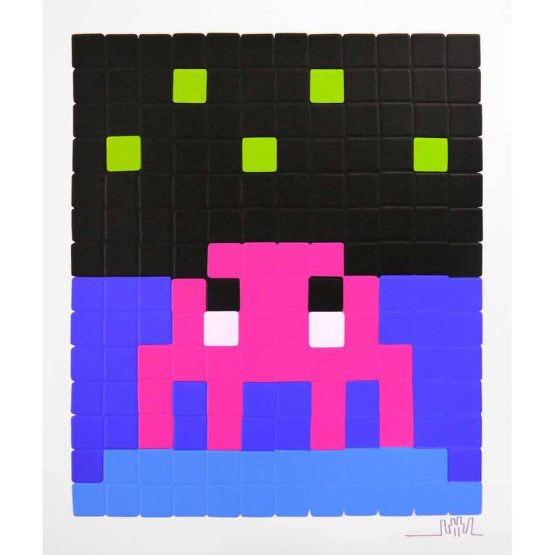 Invader – Space One (Pink) Print
Medium: Embossed 5 colour screen print on 300 gsm Somerset Satin White paper
Edition: 70
Size: 38 x 37,5cm
Description: Signed and numbered by The Artist.
Year: 2013

Condition: The artwork has been framed by John Jones to full conservation standard. Photos are available on request.
Only 1 left in stock
Description
This limited edition embossed signed screen print is part of Invader's Space collection from 2013. Space One (Pink) is highly coveted among Invader's works due to its Pink depiction of the Space One mosaic that Invader sent into space for ART4SPACE. As you've seen, it was a groundbreaking project that forever marked Invader's career as the first artist to send an artwork into space and left an indelible mark on the history of art. The Pink version of Space One is a more limited edition than the original Red version.
"Having spent the last fifteen years spreading space invaders at the four corners of the world, I dreamt of sending – or I should say return – one to space."

Invader
Video @ Invader
Space One (Pink), along with Space One (Red), ART4SPACE (2D) and ART4SPACE (3D) limited edition signed screen prints, are part of Invader's Space collection from 2013. These prints portray the most significant moment of the Invader's journey: the first artwork in Space. Are you interested in exploring our store's extraterrestrial art prints by Invader? They're out of this world.
---