Invader – 3D Little Big Space
Medium: Vinyl
Edition: 5000
Size: 28 x 20 x 4cm | 11 x 7 9/10 x 13/5 in
Description: Plate-signed and plate-numbered on the base of the sculpture
Year: 2022
Condition: Brand new in original Invader box.
Only 2 left in stock
Description
Nestled in the heart of Paris's 4th arrondissement is the largest mosaic creation by the street artist Invader – the monumental Space Invader artwork is known as PA_1432.
This striking artwork spans a massive 70 sqm and towers at an impressive 9 metres tall and 7 metres wide. Comprised of a staggering 447 tiles, the mosaic stands alongside other iconic pieces such as Jef Aerosol's "Chut!" and Shepard Fairey's "The Future is Unwritten" on the renowned Place Stravinsky.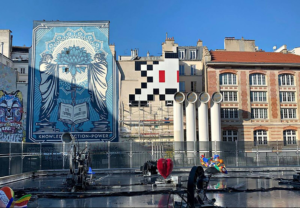 Despite PA_1432 massive size, there is a smaller yet equally remarkable version called 3D Little Big Space.
This limited edition sculpture, edited by Musart for Invader in 2022, is a miniature replica of the original artwork, measuring only 2% of its size. However, it is still created in full volume and retains all the details of the original mosaic. Each of the 5,000 sculptures are individually numbered and engraved with the artist's signature on the foot, making it a special piece for collectors.
---