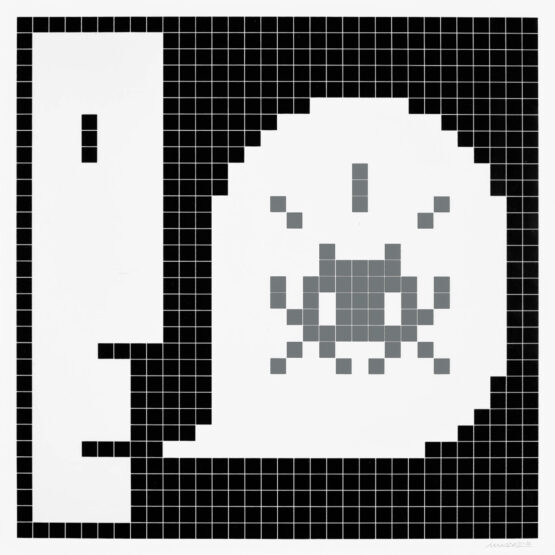 Invader – Alert (Grey)
Medium: screen print on paper
Edition: 60
Size: 60 x 60cm
Description: Signed & numbered by The Artist
Year: 2020
Description
The "Alert 2020" print by Invader is a nostalgic print that measures 60 x 60 cm and is available in 5 variations of 60 prints each. It was originally published for the "Invader / Prints on Paper" exhibition at MGLC in Ljubljana, Slovenia.
This print is particularly fascinating because it is a remake of the first print Invader ever made in 2001, called "Alert." Which was a two-colour Pantone print 68cm x 68 cm. The artist published an edition 100 for the exhibition, ' I invade Tokyo, 2001, and A, Toyko, Japan. This was printed in the Red version only.
The print design is inspired by the early Macintosh system bitmap icons created by Susan Kare in 1984. Kare is a highly influential computer iconographer who has designed thousands of software icons since 1983. Her minimalist grid-based designs are instantly recognisable and memorable, communicating their functions precisely. Kare joined Apple in 1982 and became the sole creator of screen graphics for the Macintosh group. She is famous for designing the friendly and unique icons, typefaces, and pixel elements that gave the Macintosh its characteristic look and feel. Despite having no software experience, her ability to empathise with non-technical users proved an asset.
The print "Alert 2020" by Invader pays tribute to the early Macintosh era when computer viruses were rampant. It also draws inspiration from the iconic designs of Susan Kare. This print is a must-have for any art enthusiast or tech aficionado.
"The Alert icon is one of several signage-like symbols from the original Macintosh. A cropped face (designed to be universal) and speech bubble, using all 32 x 32 pixels, was intended to get the user's attention and deliver a message." Susan Kare
The print has certainly caught our attention, and the message is INVADER!
---