A possible new Banksy artwork has appeared overnight on the side of a former prison located in Reading, Berkshire, England.
The stencil mural is of a prisoner escaping the former jail over the brick wall. The prisoner has made a rope out of his bedsheet/writing paper weighted down by an old typewriter to aid his escape.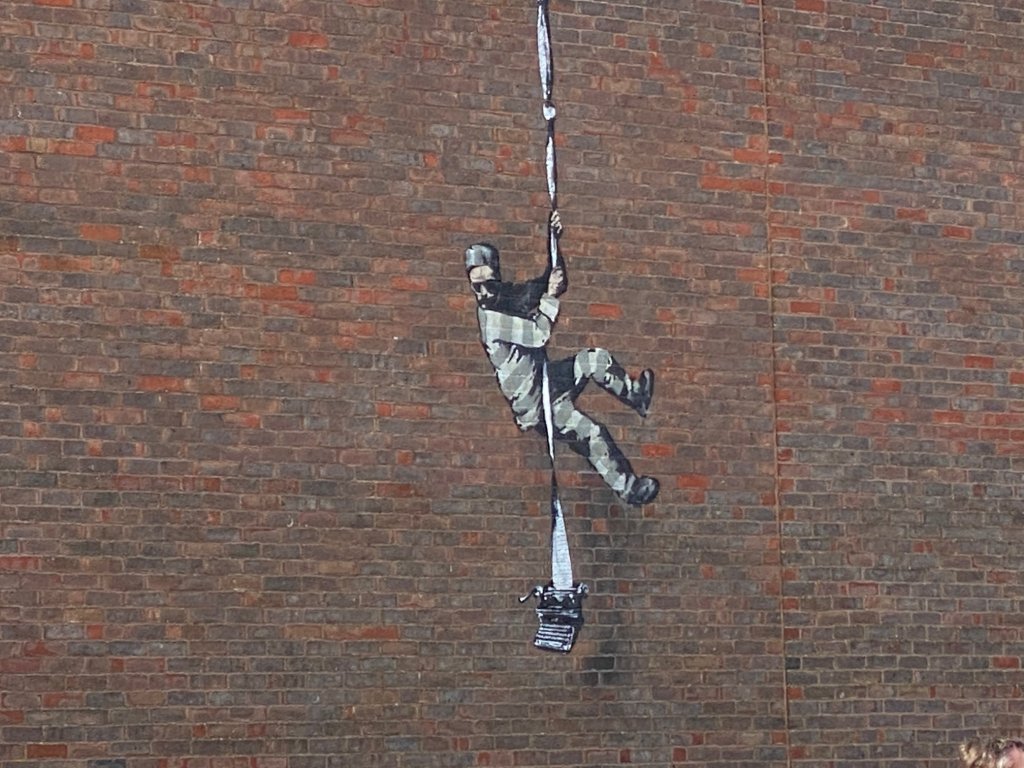 The prisoner possibly resembles famous inmate Oscar Wilde, who was imprisoned from 25 March 1895 until 19 May 1897 after his affair with Lord Alfred Douglas was exposed. Oscar wrote a poem about his time titled Ballad of Reading Gaol, which reflected the Victorian penal system's brutality.
HM Prison Reading, formerly known as Reading Gaol, was operated by Her Majesty's Prison Service until its closure in 2014. Since its closure, the prison was open to tourists until the building became derelict. Possible outcomes of the building were to turn it into a theatre or arts venue; until recently, it was nearly sold for proposed housing.
Locals have been fighting since the housing sale fell through to see the former prison turned into an arts venue rather than sold off for housing.
The artwork has attracted lots of attention in reading, with many locals taking a look during their daily exercise or commute to work.
"The artwork is a great tribute to Oscar Wilde, hopefully, it's from Banksy! Nice to see some great street art in Reading at a historical location." local resident Siân Putnam
Banksy has not yet claimed the work, and fans are looking out on his Instagram for confirmation, but it looks like Banksy favours the art venue for this historic building.
Photo Credit Siân Putnam
Comments
comments