Branded Arts has wrapped up an epic Festival at Benjamin N. Cardozo High School in Queens, New York! Formerly attended by Ronnie Fieg, founder of KITH. Benjamin N. Cardozo High School is a public high school in the Queens borough of New York City, USA. The school is named for Benjamin N. Cardozo, who served as chief judge of the New York Court of Appeals and then as a justice of the U.S. Supreme Court.
Branded Arts founder Warren Brand curated the festival, and over fifteen artists painted a series of murals throughout Cardozo High from 23rd to 27th May 2022. Across the course of the week, the school hosted public guided tours of the mural painting, an academic symposium, a pop-up art gallery, community workshops by City Kids Foundation and more.
Participating artists included; Cern, Daniel Arsham, Darryl, DMC McDaniels, Faile, Faust, FUTURA, Geri Cohen @ger_miz, Jing Wei, Josh Everhorn, Lady Pink, Saint-Cyr Art Studio, Maya Hayuk, OSGEMEOS, Shaina McCoy, Swoon and Vanezza Cruz.
The Branded Arts Festival symposium programming welcomed several incredible speakers. "From Queens to the World" is a special panel discussion featuring DMC, Darryldmcmakescomics, FUTURA and osgemeos, all moderated by Alan Kets from the Museum of Graffiti.
First, Kicking off the Branded Arts Festival was a unique collaboration between FUTURA and Os Gemeos titled "Connectivity". Photos courtesy of the one and only legendary Martha Cooper!
"WE DARE TO BELIEVE – DON'T STOP – CARDOZO" completed the project by Faile with the help of the students! Photos courtesy of Chop 'em down films and the artists!
Like all New York City public schools, Cardozo High School is operated by the New York City Department of Education. It is generally referred to simply as "Cardozo," or just "'dozo" by the students. DOZO was painted by Shaina Mccoy with letters by OsGemeos.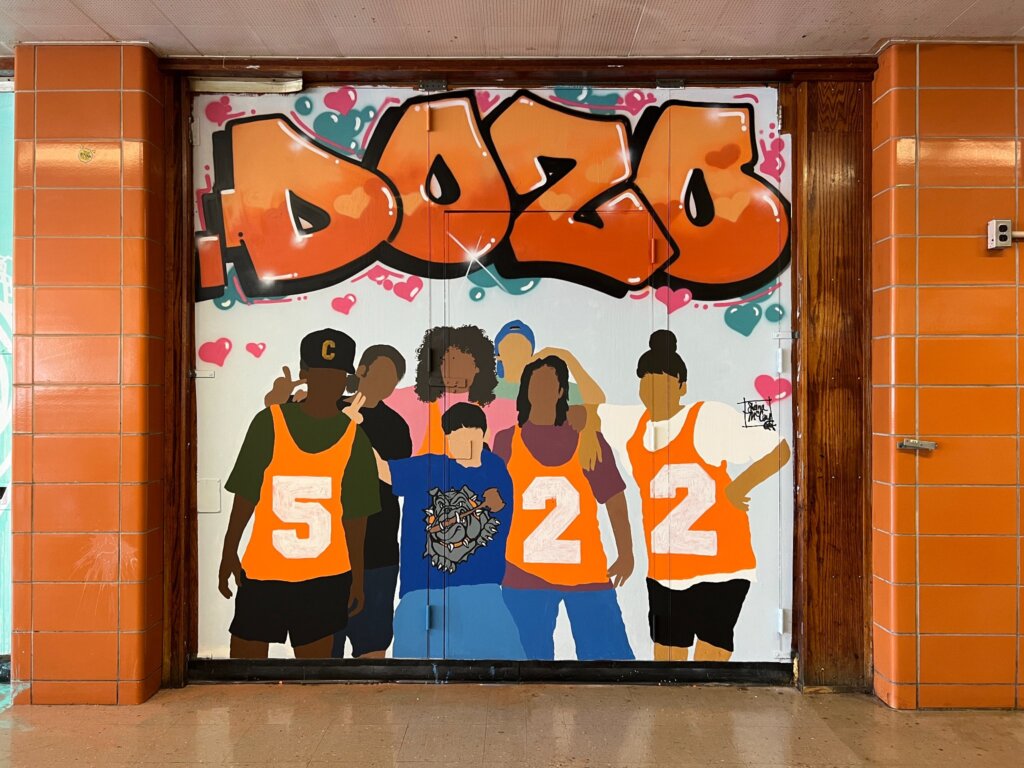 Faust painted the bulldog mascot for Cardozo High School. Benjamin N. Cardozo served as a Supreme Court Justice from 1932-1938. You will often see a bulldog representing the school because Justice Cardozo's nickname was "the bulldog" when he served on the Supreme Court.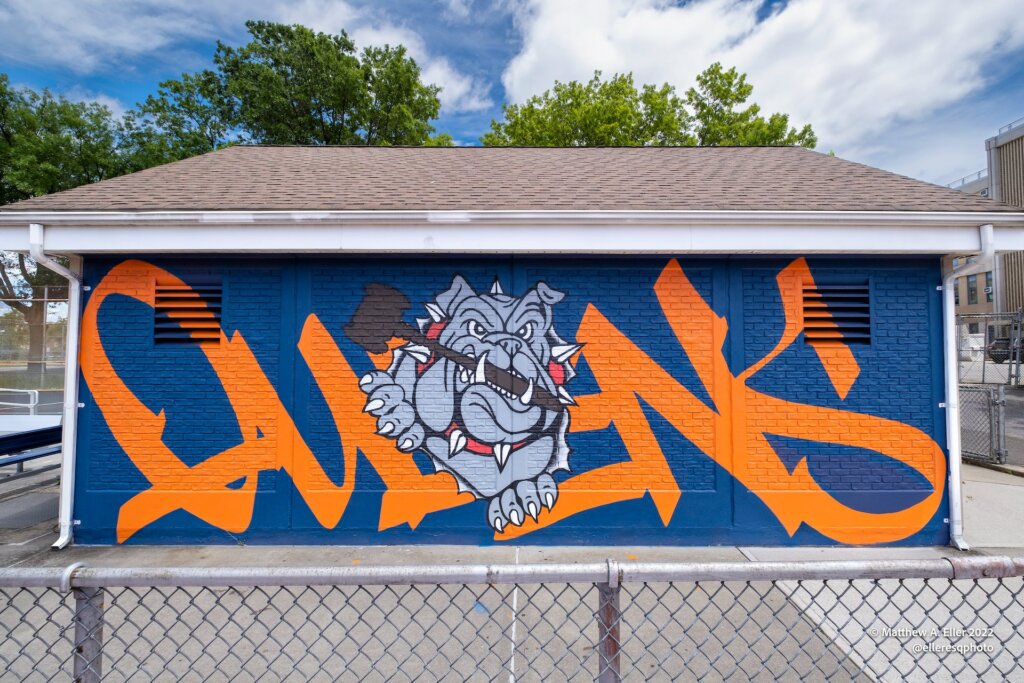 Ukrainian-American artist Maya Hayuk paints her Ukrainian heritage into her mural, incorporating blue and yellow and standing with Ukraine as they defend against the Russian Invasion.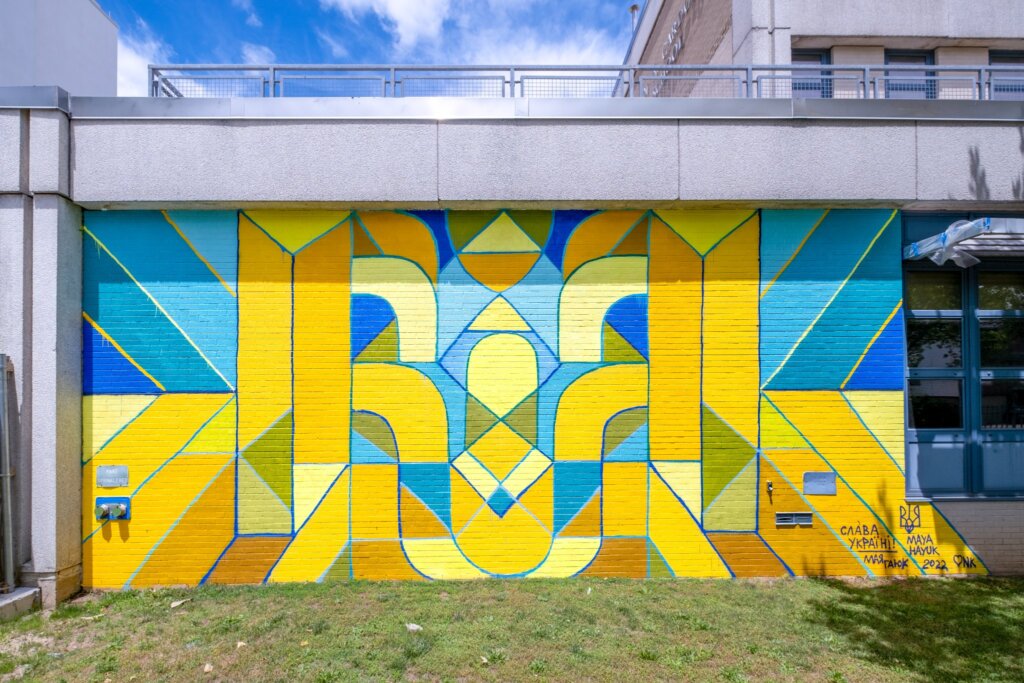 Check out the other murals below…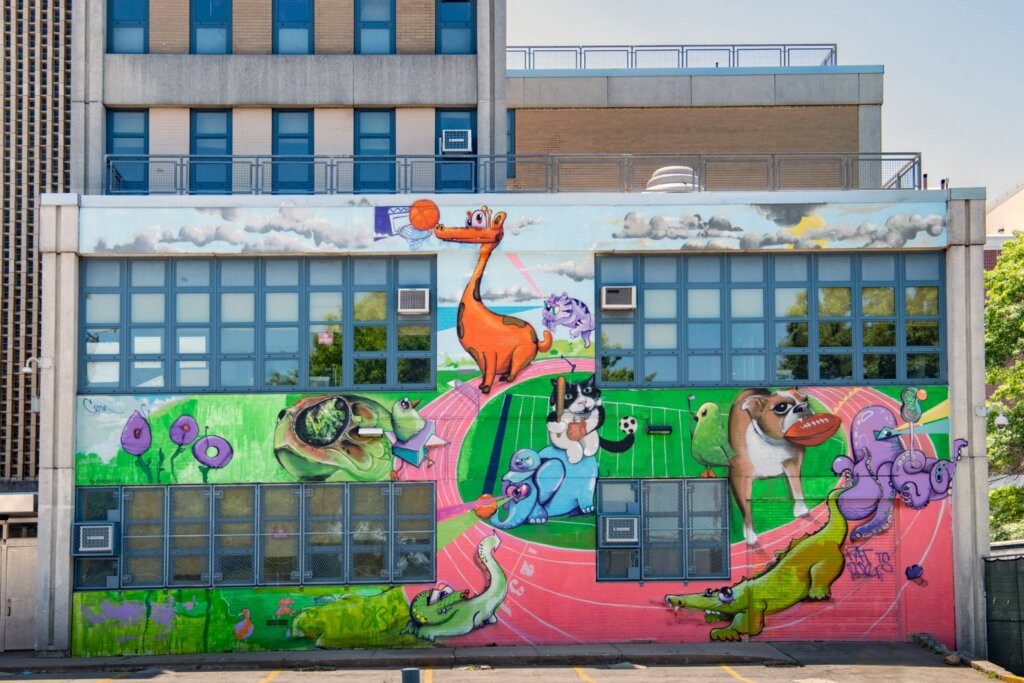 The Branded Arts Festival continues to facilitate the importance of art in educational systems, hosting student engagement projects throughout the festival. Students were involved with mural production through workshops and seminars and participated in an academic symposium with a wide array of presentations.
Assistant curator: Joshua Geyer Co-producers and contributors: Kith Behr paint, Hercrentals, Melodic star from The Tigers Eye, creative cabal citykids_nyc Chop'em Down Films, sprayplanet, Arlo Hotels, Metro wide format and Try Love Foundation
Photo courtesy of Branded Arts. See photos for credits.
Comments
comments