Banksy has confirmed via his Instagram page that he is behind the number of artworks that have appeared recently in seaside towns on the east coast of the UK.
The 3:16 minute Instagram video clip titled "A Great British Spraycation" shows the elusive artist taking a summer road trip in an old camper van.
The video begins with Banksy's legs as they leave his beaten-up campervan with a can-filled cool box and a striped windbreaker. All the necessities when stencil spraying in secret!
His first artwork is, of course, the Banksy rat lounging in a deckchair, sipping on a cocktail, underneath an umbrella. Banksy is always spot on with locations, and the Martini cocktail glass is cleverly positioned underneath a water overflow pipe. The rat can be found at the bottom of Links Hill, North Beach, Lowestoft, Suffolk NR32 4PQ.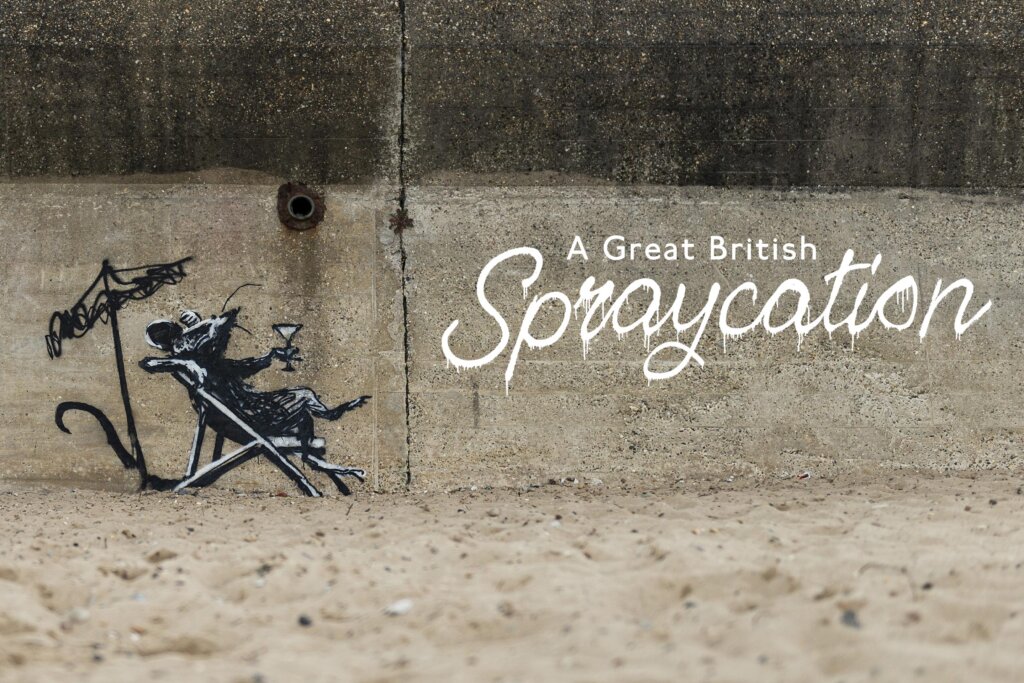 Banksy jumps back into the campervan and finds a place over a bench on the seafront of Gorleston to paint his mechanical claw, reminding us of the pier arcade games when you win a stuffed toy, only this time it appears to be a holidaymaker.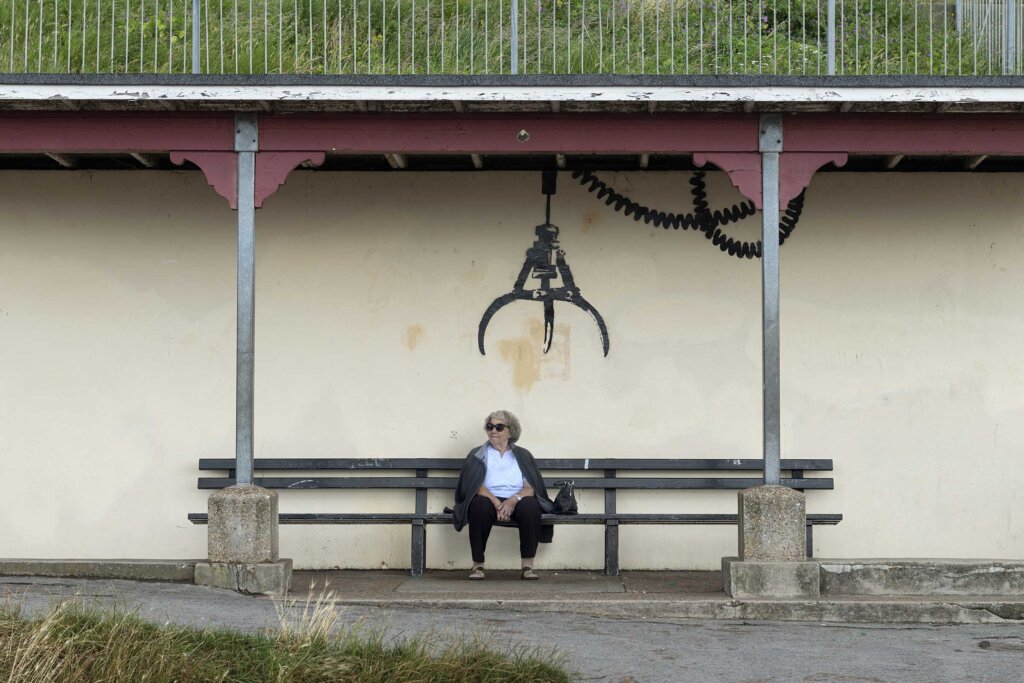 Next, Banksy paints a giant seagull flying above a skip full of oversized "chips". This stencil can be found on Katwijk Way, Lowestoft, Suffolk.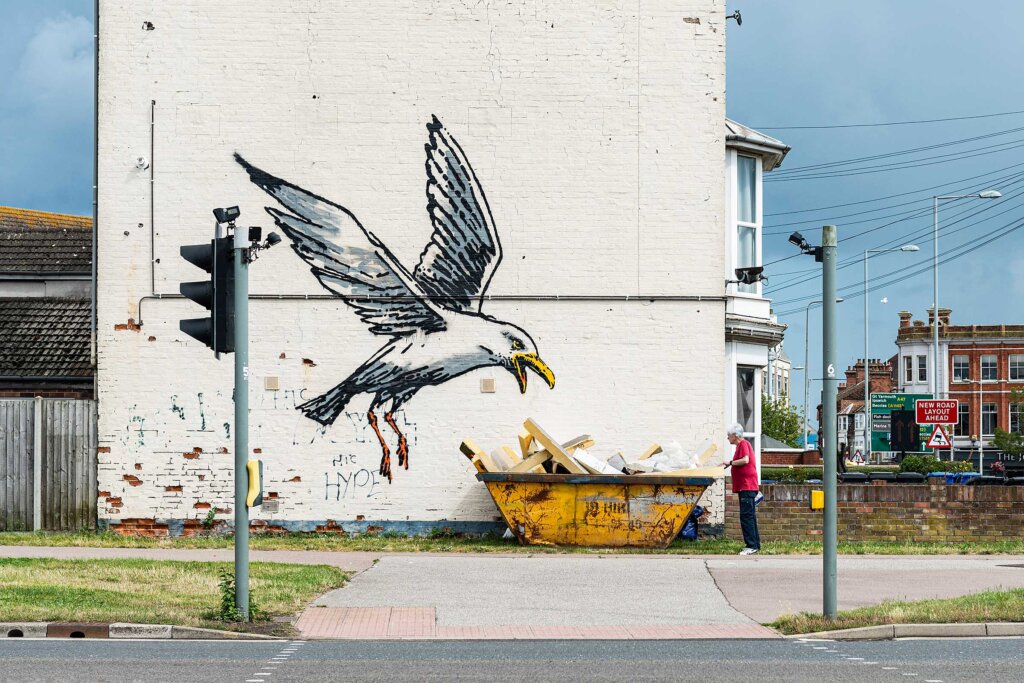 Banksy then drives past Sealife, where we see a mini stenciled artwork on a sea wall in Cromer, Norfolk. Cromer is famous for its crabs, and we see one crab with his shell on his back holding a sign, ' Luxury Rentals Only', offering three shells for rent to the other crabs.
Banksy's next pit stop is the marina which is filled with luxury yachts. Banksy paints three children in a boat in Nicholas Everitt Park, Oulton Broad. One looks ahead as the captain while another is busy bailing out water with a bucket. Behind them on the brick wall appears the satirical inscription: "We're all in the same boat."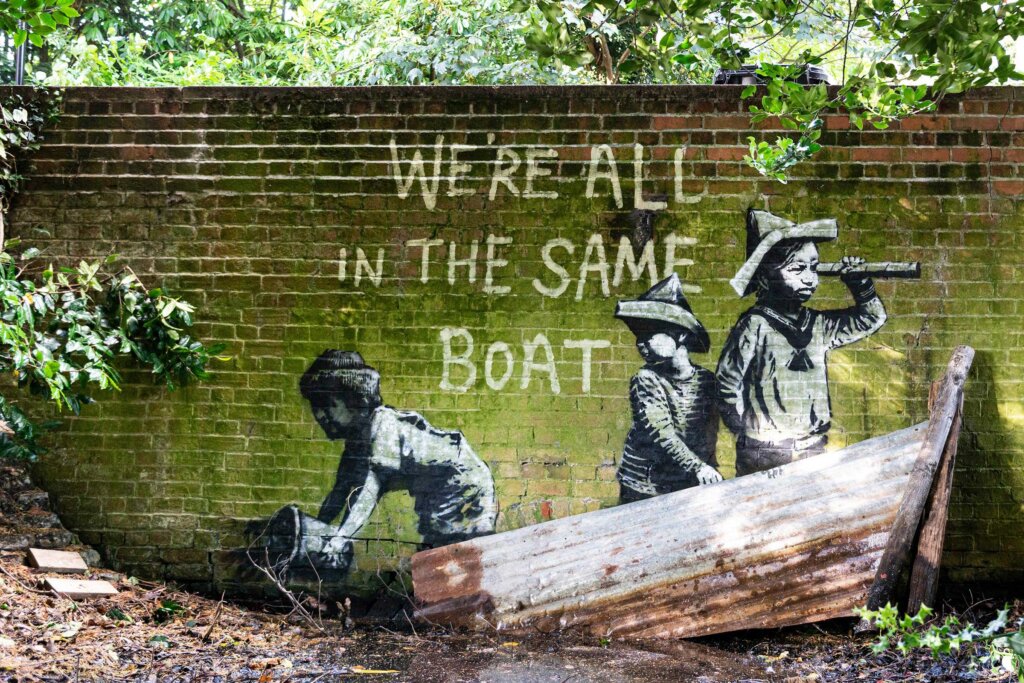 The metal boat has been removed in recent days by the Oulton Broad Parish Council due to the risk of flooding.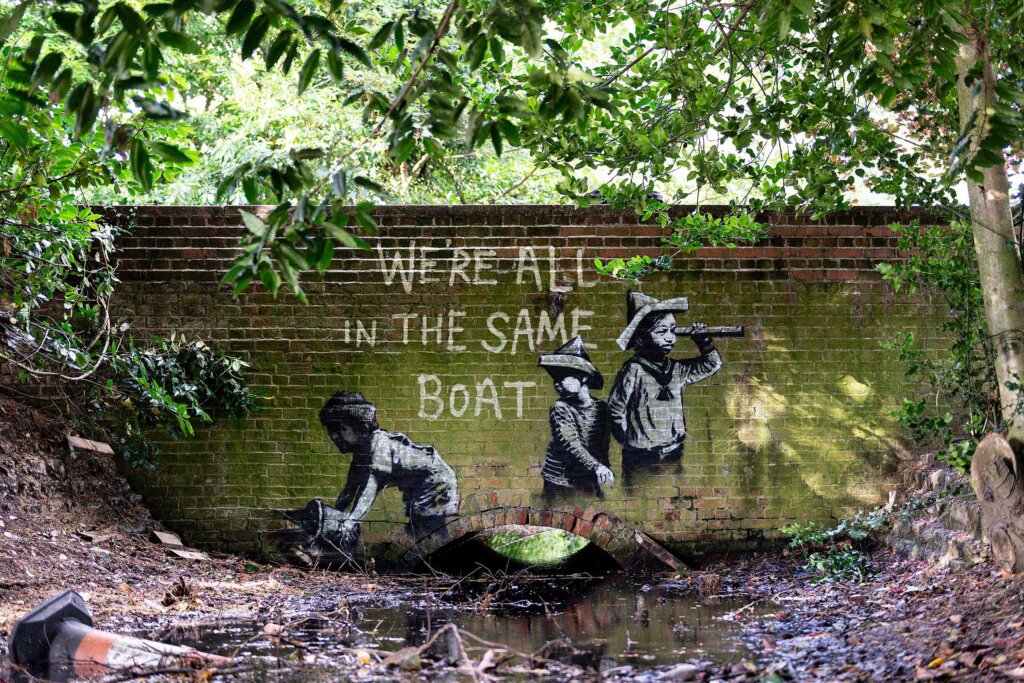 Following on from this, Banksy dons the Frederick Savage statue at Guanock Place, London Road, King's Lynn with an ice-cream cone. We see Banksy make the ice-cream cone in the campervan by using the top of a caution wet floor sign and some expanding foam filler; Banksy also places a pink tongue from his mouth. Savage came from a deprived rural background and became famous for inventing steam-powered fairground machinery in the 1800s and was later mayor of Lynn.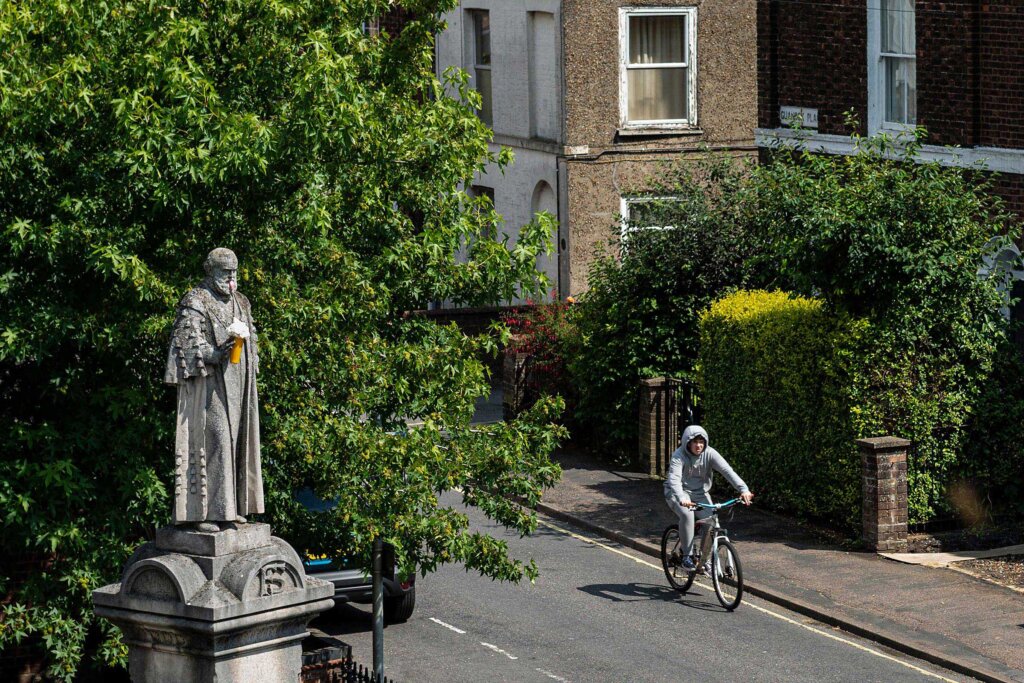 Banksy then finds the sand underneath the paving slabs and builds a sandcastle, a nod to "Sous les pavés, la plage!" ("Under the paving stones, the beach!"), is a slogan from the May 1968 protest movement in France.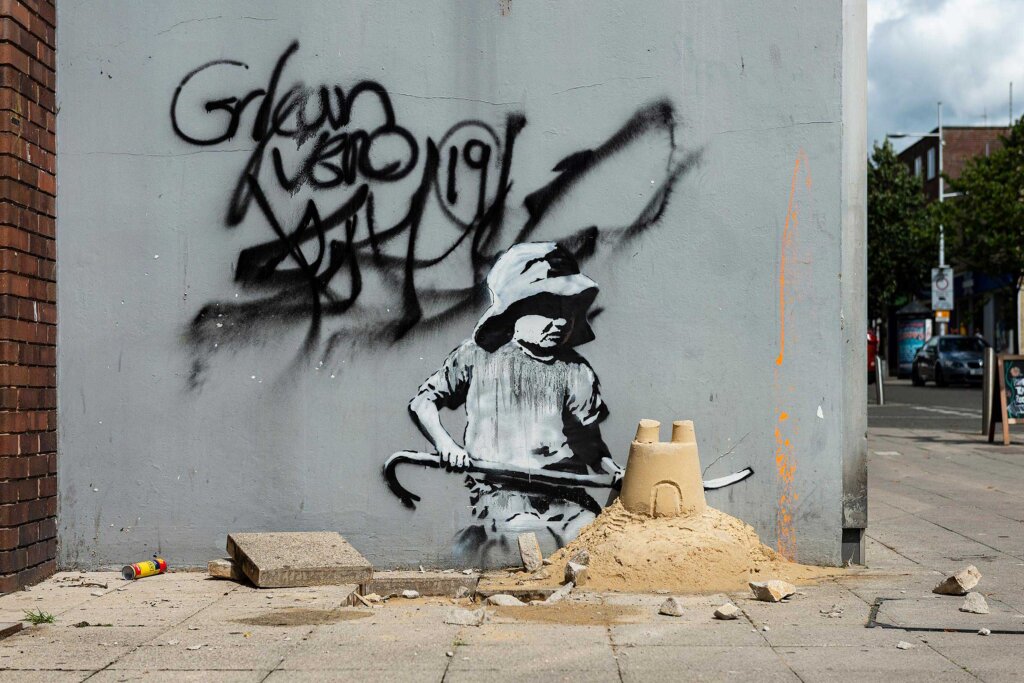 During the evening, Banksy drives up next to the bus shelter on Admiralty Road, Great Yarmouth, and using his ladder on the side of the campervan, climbs up to the rooftop level and paints a couple dancing to the tune of a flat-capped accordion player.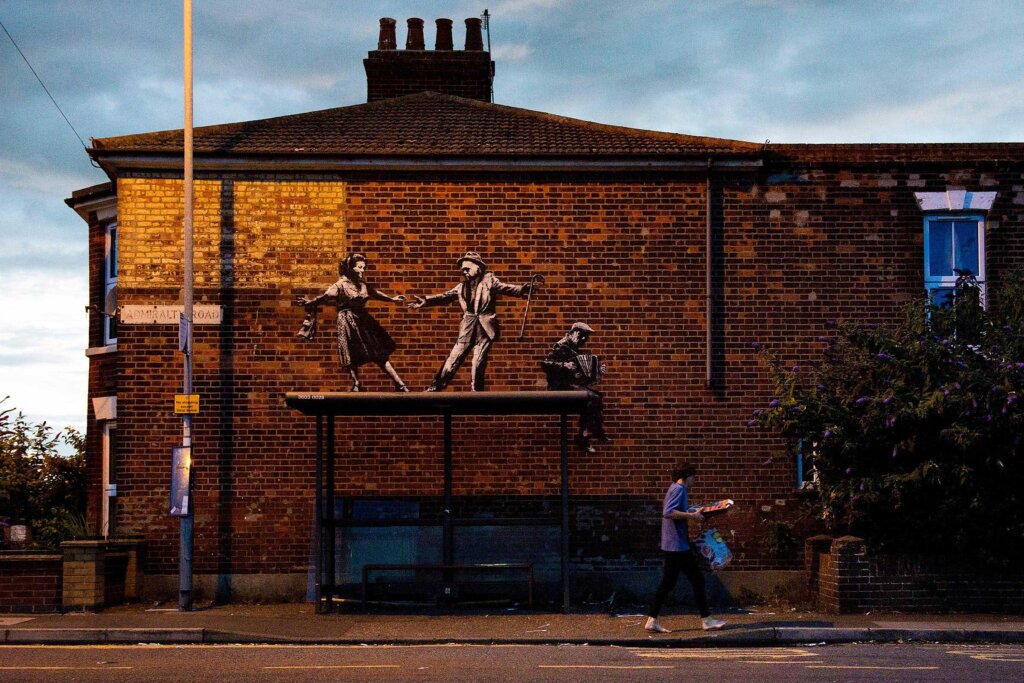 Banksy visits Merrivale Model Village in Great Yarmouth, Norfolk and leaves a small addition to the village! A horse barn with a Banksy tag and on the other side his rat spraying 'Go big or go home."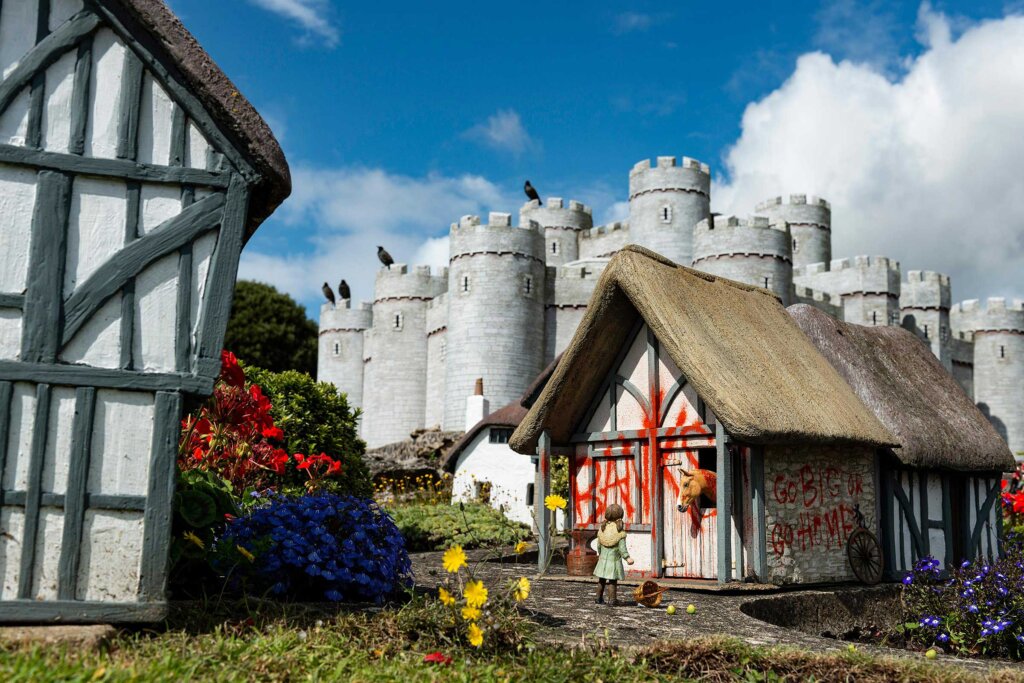 Banksy ends the video with a lady spectator commenting on the Rat stencil, which we saw at the beginning of the video.

"It looks a lot better far away than it does when you get this close"
Banksy's 'Spraycation' took him to Lowestoft in Suffolk and Gorleston and Great Yarmouth in Norfolk. View the video below …
Another stencil that didn't make the video is at Gorleston model yacht pond. Two children are flung into the air, clinging to an inflatable dinghy, being pumped up by a man drinking from a bottle of beer and being distracted.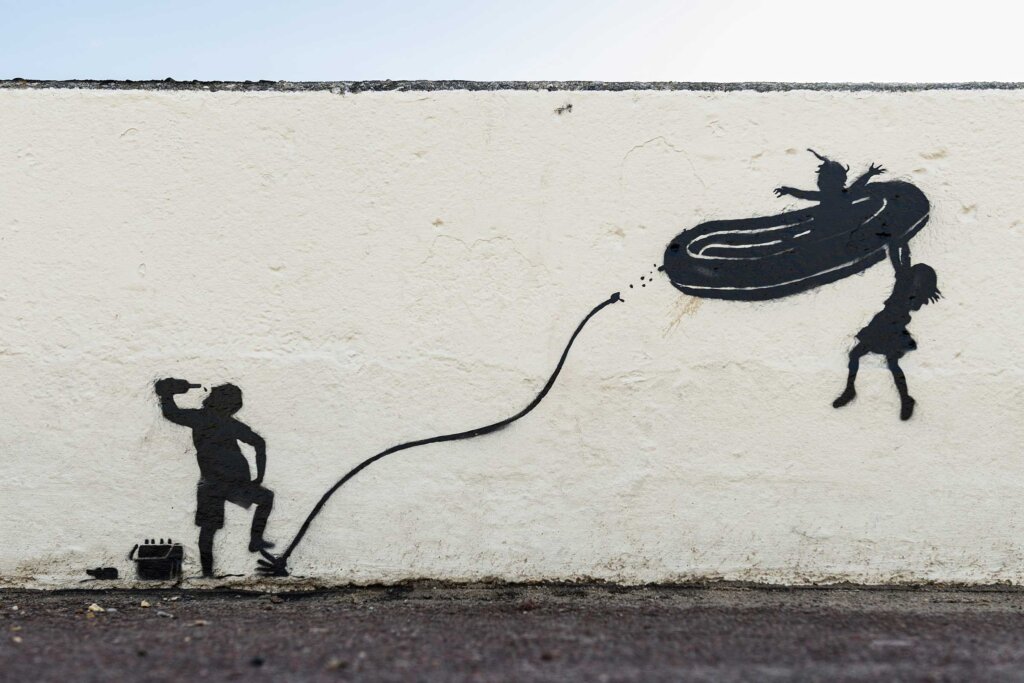 What a great collection of new artworks to the Great British seaside. With many more families staying home this year due to the pandemic and travel restrictions, Banksy has turned the staycation into a fabulous Spraycation, and we love it!
We'd love to hear your reactions to Banksy's latest works, leave us your comments below!
Photo/video credit Banksy
Comments
comments