Five new 3D models of murals for blind and visually impaired people take pride-of-place in Belgrade. With these new model additions, Belgrade now has eight 3D murals.
The goal of this project, led by the organization Street Art Belgrade, is to bring street art closer to blind and visually impaired people through models made using 3D printing technology that enables blind and visually impaired people to get to know the works through touch.
The first two models were put up on the walls in October 2021, representing the works of artist Weedzor. Read more here.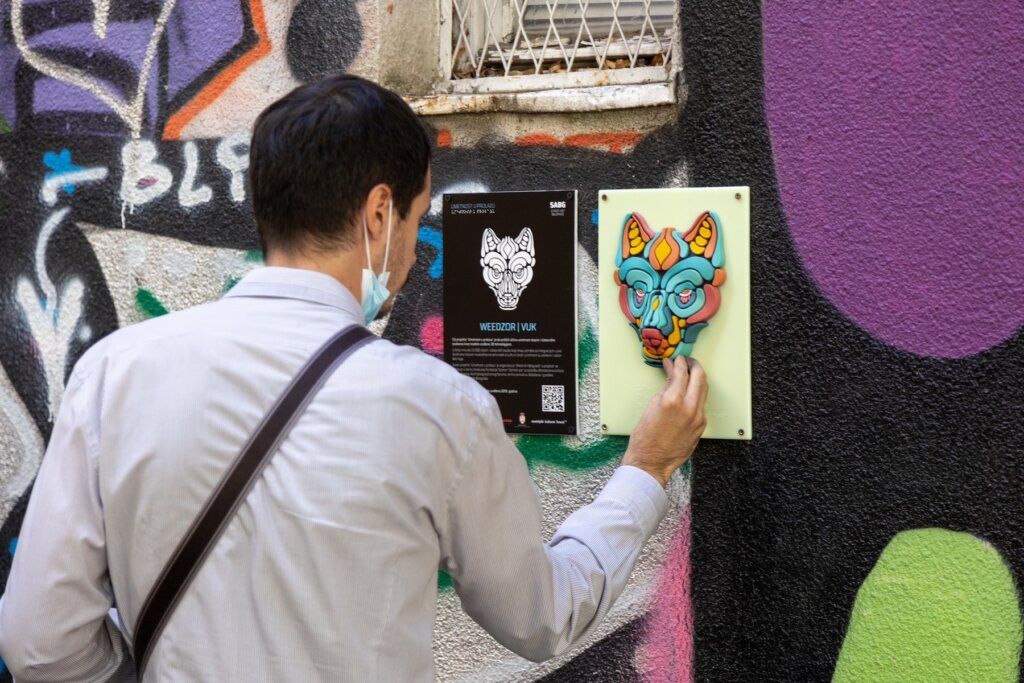 The third model was done in April 2022 for the mural done by artists Jana Danilović and Hope.
Five new models of murals were set up in May at several locations in the city centre, representing different artists and street art styles.
New murals selected for the 3D models are done by the well-known and loved artists TKV, Piros, Junk, Rage, Lunar and Flying Fortress. Along with the 3D models, there is a description of the works in Braille.
The works selected are based on the availability and proximity to the Organization of the Blind in Belgrade. Chosen so members could feel what it looks like to discover art on the street through only a short walk.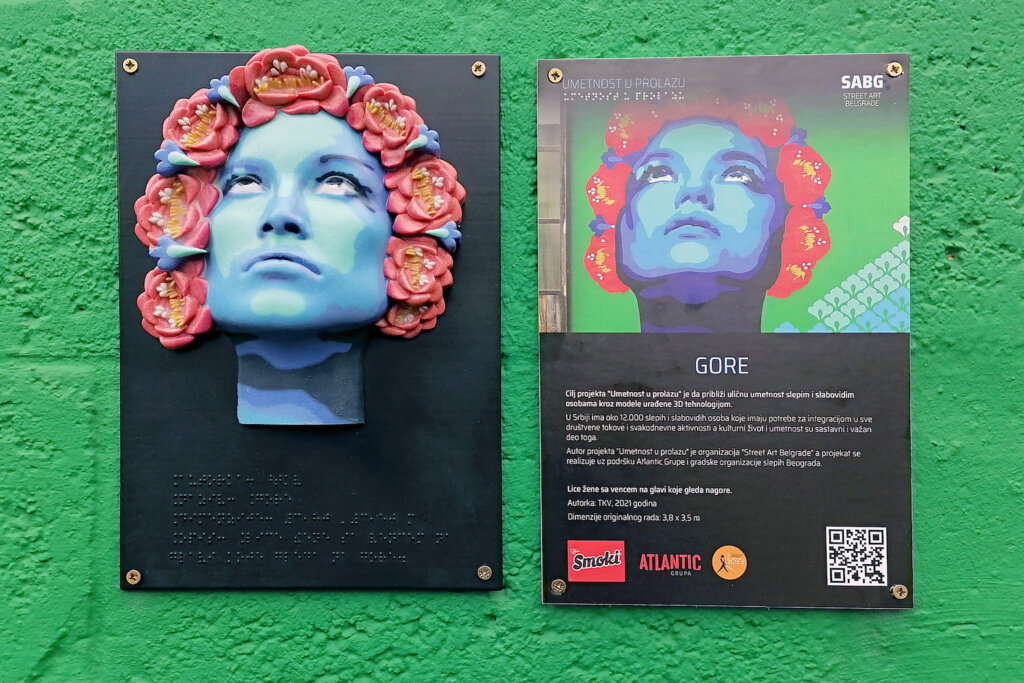 "I am glad that the artists were given the opportunity to participate in the project of bringing murals closer to blind and visually impaired people. We have been given a new position through which we have an additional motive to think about how to convey something that is visual to someone who cannot see. This is very important, especially since street art is considered to be the freest kind of art. This is a step forward towards an inclusive society and I am glad that people within the street art community have launched this initiative; it creates a space to think about how to bring art closer to everyone." Aleksandra Petković TKV
There are about 12,000 blind and visually impaired people in Serbia who need support in exercising their rights and integration into all social flows and daily activities. Cultural life and art are integral and essential parts of that.
"At the beginning of this project, I did not believe that it was possible to adapt murals to the blind and visually impaired, and in less than a year we have a total of eight works available to us. Our community is small and art is still insufficiently accessible to blind and visually impaired people, the very fact that artists will now think of adapting their works to everyone means a lot to us. The models on the streets motivate our members to feel as a part of the city, to move and walk more, which is very valuable." Nikola Djordjevic, president of the City Organization of the Blind in Belgrade.
…
The project's author is the organization "Street Art Belgrade", whose members have been researching, documenting and popularizing street art and graffiti for over two decades. They are dedicated to bringing street art closer to everyone, and in the last two years, they have organized the first street art workshops for seniors and the first street art Belgrade exhibition in Virtual Reality. The project is supported by the City Organization of the Blind in Belgrade and Yettel and Atlantic Group companies.
Photo credits: Aleksandar Djordjevic, Marko Mihajlovic, Alex Dmitrovic
Comments
comments