Blek le Rat was one of the first to use the rat as a motif in his work on the streets of Paris. As an inspiration to Banksy, the artist also adopted the Rat as his rodent of choice.
"Every time I think I've painted something slightly original, I find out that Blek Le Rat has done it as well. Only twenty years earlier."

Banksy 2005
…
The Banksy 'Rat' is an anagram of "ART," …
"I'd been painting rats for three years before someone said 'that's clever it's an anagram of art' and I had to pretend I'd known that all along."

Banksy
…
The symbol of the rat is also like graffiti writers in a way; the city councils eradicate them; they run around in the dark and are considered pests!
"They exist without permission. They are hated, hunted, and persecuted. They live in quiet desperation amongst the filth. And yet they are capable of bringing entire civilizations to their knees." Banksy
…
Banksy's rats are sometimes seen with spray paint cans or 3d glasses, accompanied by phrases such as "Our time will come" and "If graffiti changed anything – it would be illegal."
Banksy has brought out a few canvases and some screen prints that feature the Rat, such as Gangsta Rat and Love Rat (2004), shown in the screen prints below.
Love Rat, 2004 Screen-print in colours on paper Editions: 150 signed, 600 unsigned
Gangsta Rat, 2004 Screen-print in colours on paper Editions: 150 signed, 350 unsigned. Colourway small edition sizes: Blue, Pink, Yellow, Orange, Grey and Green.
Placard Rats were released in 2004 as editions of three different screen-prints: Welcome To Hell, Get Out While You Can, and Because I'm Worthless. The prints are based on George Marshall's book "Get Out While You Can, Escape the Rat Race." The red lettering signed edition was /75. Whilst the unsigned edition /175 was a mixture of pink and red lettering. H 50cm x W 35cm
In 2019 at Banksy's Gross Domestic Product store in Croydon, UK, Banksy released free Rat screenprints to the children visiting the store. The image is taken from the Racing Rat clock at the GDP store. Read more here.
The Clock is an "upcycled" office clock featuring a rat running up one side of the clock's face as if stuck in a wheel. The rodent represents the endless rat race we find ourselves in.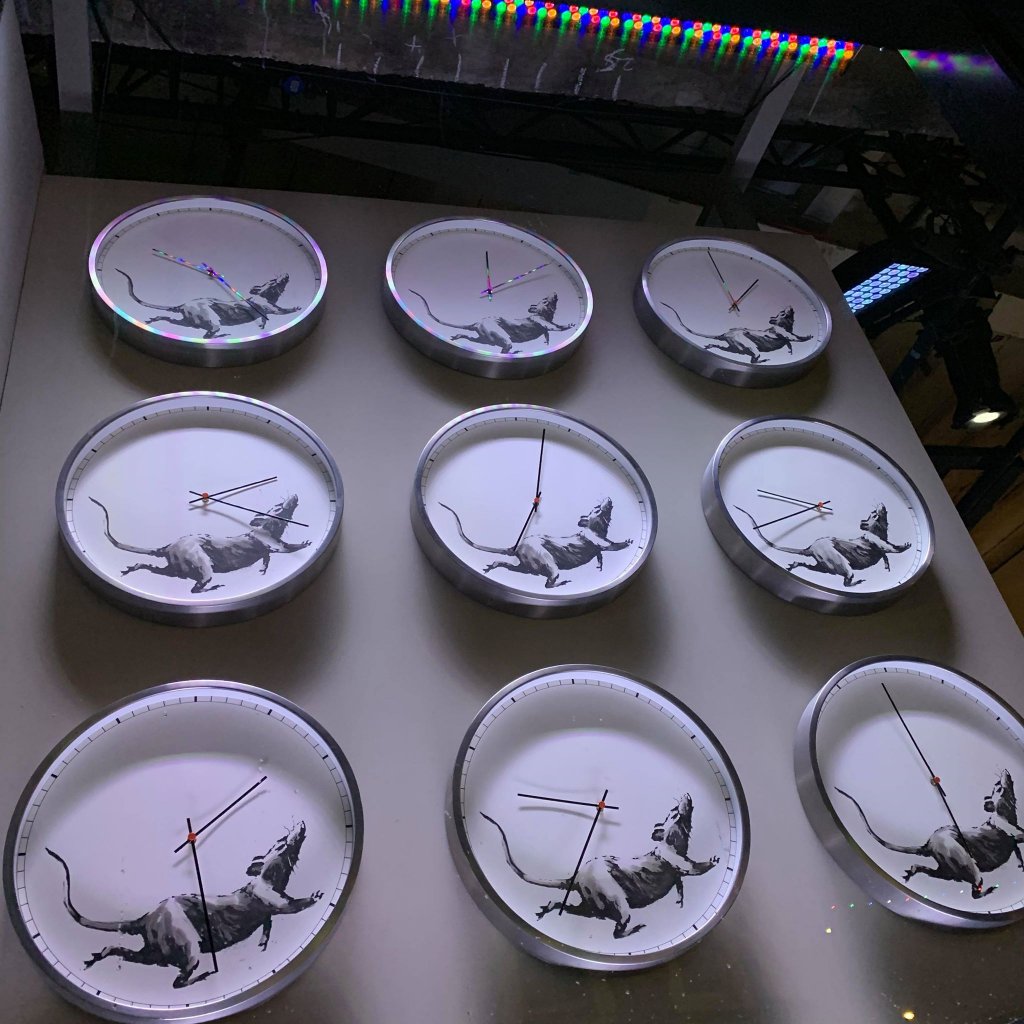 Please get in touch if you are interested in a Banksy Rat artwork for your art collection.
Comments
comments