The world-renowned British street artist Stik has captured the attention of art enthusiasts worldwide with his fascinating journey from homelessness to a successful art career. His minimalist stick figures, composed of only six lines and two dots, are powerful vehicles of emotional expression, capable of communicating with audiences on a profound level. Despite its simplistic style, Stik's art addresses complex social issues, reflecting his unwavering dedication to promoting social change. In this article, we delve deeper into Stik's unique approach to art, exploring the intersection between art and investment. We discuss how his work can be a valuable addition to any art collection by examining its aesthetic and social significance. By providing insight into the value that Stik's work brings to the art world, we present ten compelling reasons to invest in his art.
1.
From the Streets of London to the Galleries of New York
Stik's journey as an artist started with humble beginnings on the streets of East London, where he created murals that conveyed deep emotions. Despite being homeless, Stik's artwork quickly caught the attention of passersby, captivated by his charming style and the rawness of his art. Stik's commitment and passion for his work never wavered, even as he faced significant challenges. Through his persistence and dedication, Stik's art gained substantial recognition among art galleries in London and New York. Today, Stik's murals inspire people worldwide with powerful messages and emotional imagery, and his unique style has become synonymous with the streets of East London. The "Walk" print signifies Stik's journey from painting on the street to selling his art in Galleries.
Stik – Walk (Red Edition) Print
2.
International Appeal
Stik's unique and captivating artwork is often showcased in prominent public spaces, increasing its visibility and making it easily accessible to a diverse range of people. His worldwide murals, which feature his signature stick figures, have gained immense popularity and earned him a devoted fan base. The global reach of his work has only added to the demand for his art, further cementing his position as a highly sought-after artist.
Stik, Street Art Mural, Avenue of the Immigrants, New York 2017. Photo credit @just_a_spectator
3.
Print Releases
Investing in Stik's artwork can be a lucrative decision in the long run. For instance, Sleeping Baby by Stik, initially released in 2015 to raise funds for Homerton Hospital in East London, was priced at £500, with an edition of 50. Today, a single colour variant of this artwork can be worth thousands of pounds due to its high demand and the significant appreciation in its value.
Stik -Sleeping Baby (Blue) Print
4.
Growing demand
Stik is a well-known artist with a dedicated following. He has over 70k followers on Instagram, and with Stik's increasing popularity, the demand for his artwork is also rising.
STIK. Chichester Street Art 2013. Photo Credit Neal Scott / Graffiti Street
5.
Limited Availability
Art collectors highly seek Stik's artwork due to its exclusive nature. Stik's pieces are known for their limited availability, making them highly coveted by art enthusiasts. The limited edition screen prints are particularly sought after due to their exclusivity of small number runs. Stik also follows the principle of keeping his production limited and not overproducing.
Stik – Liberty (turquoise) Print
6.
Strong Auction track record
His artwork has been sold at major auction houses, such as Christie's, Bonhams and Sotheby's, indicating its value and potential for investment. Stik's artwork is highly sought-after by collectors worldwide, with top prices being fetched at auctions. His art pieces are not only valuable but also showcase a substantial investment value, as evidenced by Holding Hands for £287,500 at Christie's Auction House, London in 2020, Children of Fire sold for £246,000 in June 2022 at Bonham's Auction House, the Big Mother, which sold for £193,750 at Phillips Auction House in 2018.
Holding Hands for £287,500 at Christie's Auction House, London, in 2020
7.
Philanthropic Work
Stik's legacy will forever be remembered for his philanthropic work, raising hundreds of thousands of pounds for various charities. His selfless acts of kindness have helped numerous foundations, including the NHS, Big Issue Foundation, Cardboard Citizens, ARTification and the Refugee Council, to name a few. Thanks to Stik's contributions, these charities have made a significant difference in the lives of those who need it most. Witnessing Stik's art being auctioned off for hundreds of thousands of pounds to bring about positive change in the world is nothing short of inspiring.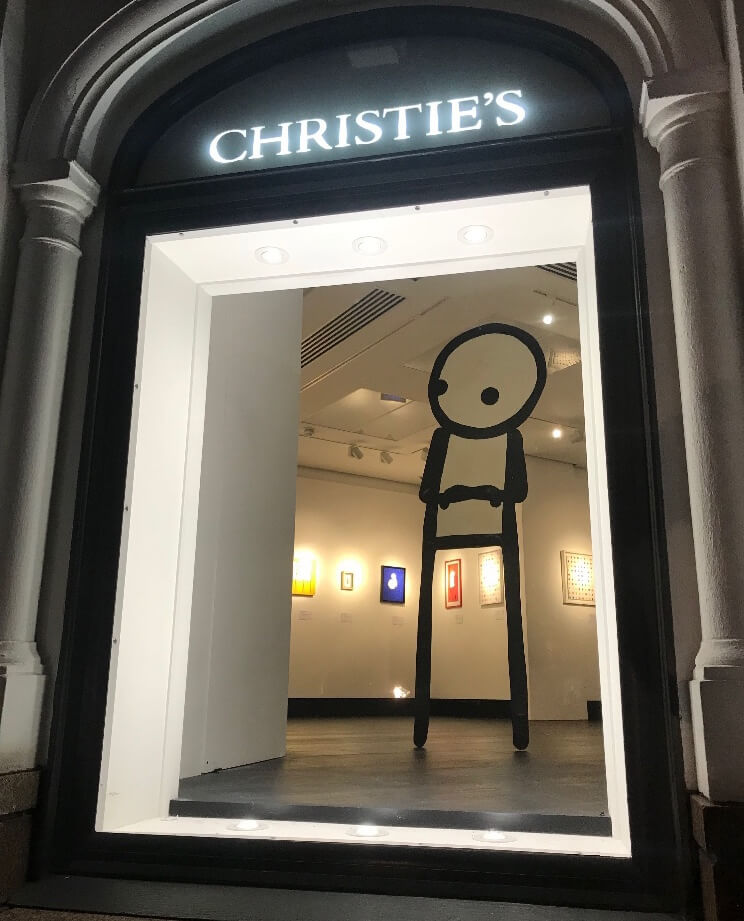 Stik raises money for charitable causes.
8.
Cultural Icon
Stik has captivated audiences and gained a devoted following with his simple yet powerful style. His minimalist approach to street art has been described as bold and nuanced, and his characters are instantly recognisable. The stick figure in Stik's art exudes emotions, making them charming and relatable. His art is centred around evoking feelings, and he has left a lasting impression as an artist who touches people's hearts with his artwork and substantial donations to charities. Stik's legacy as a beloved British artist who makes a difference will live on beyond his years.
Stik, Hackney photo © Street Art London
9.
High-Profile Clients
Stik's artwork has international appeal, with collectors and fans across the globe, making it a valuable investment regardless of location. Stik's art has captured the attention of numerous high-profile clients, such as Elton John, Bono, Brian May and 'Last Christmas' director Paul Feig. This widespread recognition and demand for his work has substantially increased Stik's investment value, making him a highly sought-after artist.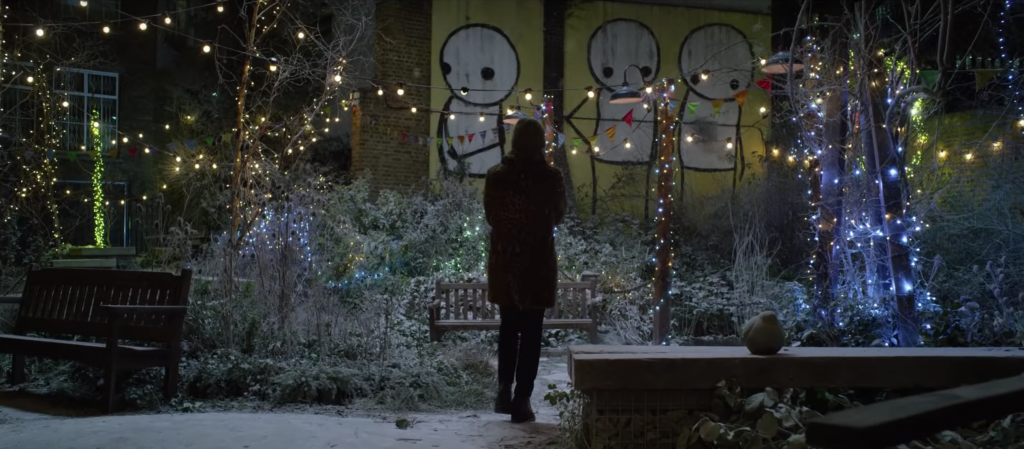 Stik, Hackney photo © Film Last Christmas
10.
Socially Conscious Artist
Stik's contributions to society extend far beyond the art world. In addition to supporting charities, Stik is known for his public art projects that aim to raise awareness about social issues affecting marginalised communities. For example, he has painted murals in support of immigrants in New York, as well as projects that highlight the horrific nuclear testing with veterans. Stik's advocacy for marginalised communities has earned him a reputation as a socially conscious artist. Through his artwork and charitable efforts, he has demonstrated a commitment to using his platform to make a positive impact on society.
Stik 'Atomic'. Image @ Jenny Lewis
Investing time and effort in researching artists and their works can lead to a rewarding experience when it comes to art collecting. Stik's impressive story of resilience, innovation, and empathy, as well as his charming style and charitable contributions, make his pieces a valuable addition to any art collection. Stik is a beloved figure in Britain's street art scene, with his pieces adorning walls across the globe.
If you're looking to add a valuable and meaningful piece to your art collection, Stik's work is definitely worth considering. Please visit the Graffiti Street Store for Stik artworks here or contact us for advice on our extensive Stik expertise.
Investing in art can be a good decision, but it's not always a guaranteed success. The art market can be unpredictable, and the value of a piece of art can fluctuate over time. Factors such as the artist's reputation, the rarity of the work, and current market trends can all impact the value of an artwork. Additionally, investing in art requires significant upfront costs, which can be a barrier for some investors. While investing in art for potential financial gain can be tempting, it's important to do thorough research and consult with experts before making any investment decisions.
Featured Image @ Stik
Comments
comments