Nuart Aberdeen was postponed in April 2020 because of the global pandemic, and a few selected artist Paste ups were left around the city of Aberdeen instead to remind us they were still there during those dark times.
Fast forward a year and a few more lockdowns later, NUART is delighted to return to the Granite City for Nuart Aberdeen Summer 2021 to reconnect us with those spaces and places that have become a part of us.
Curated by Martyn Reed, the festival has invited several artists back for return trips to Aberdeen and, for safety measures, staggered artist visits into small residencies. Nuart attempts to reconnect artists back to Aberdeen and connect citizens back to a post-pandemic public space.
"Until we get there, we can take some solace in the knowledge that it's been street artists the world over who have been at the forefront of keeping art in the public domain. As they keep finding novel ways to engage an audience and express themselves by embellishing the cities we inhabit, so we remain committed to tracking them down and bringing them to you. We're looking forward to reconnecting with all those that have made Nuart Aberdeen possible and can't wait to get started." Nuart
Local, national and international artists invited to Nuart Aberdeen 2021 include Scottish artist KMG, Helen Bur(UK) and Fanakapan (UK), Henrik Uldalen (Norway). Also, a call for paste-ups was collected worldwide to create the project 'Stuck Up'.
Edinburgh based artist KMG returned to Nuart Aberdeen; since 2017, KMG has been an essential part of the Nuart production team to help and assist many Nuart artists. This year to reconnect with Aberdeen, KMG was invited to paint her seven eyed playful character Ken, originally painted during a visit to Aberdeen, and he's become something of an icon. Ken gets his name from the local lingo! D'ya Ken fit?" which means "do you know what?" or "ken fit like", which translates as "you know what like". We do wonder what visitors think of our local mannerisms, but if "ya ken Ken" then you're doing alright!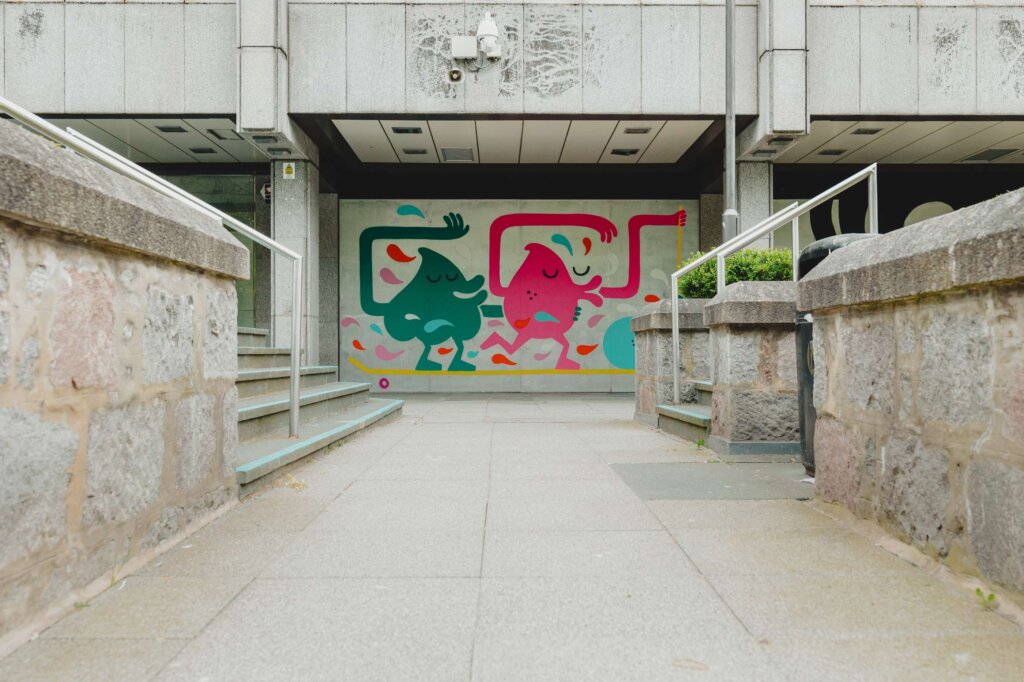 Helen Bur first painted at Nuart Aberdeen in 2019, where she painted her friends, couple Ally and Hugo. The dual murals disappeared late last year as part of the demolition of Greyfriars House. For Helen's return to Aberdeen, she has repainted her friends Ally and Hugo, this time with a new addition to the family, baby Ruby-Rae. Her large mural shows a family scene with Ally breastfeeding painted during world breastfeeding week 2021.
STUCK UP Nuart Aberdeen created a RECORD BREAKING paste-up wall in a worldwide collaborative project. The paste-ups were stuck down to a massive 1500ft of wall space in Aberdeen City Centre, creating the world's largest paste-up wall. With participating artists such as Aida Wilde (UK), Know Hope (IS), Bahia Shehab (EG), Jeremy Deller (UK), Jeremy Geddes (NZ), Robert Montgomery (UK), Sam Durant (USA), Martyn Reed (Nuart).
Norway based, South Korean artist Henrik Uldalen reconnected with Nuart after painting in art city Stavanger in 2016. Known for his dark sides of life juxtaposed with fragile beauty, Henrik painted a face with crystals emerging from the skull. Just as granite slowly emerged from the volcanic core, crystallising as it reaches the earth's surface, so too does this piece.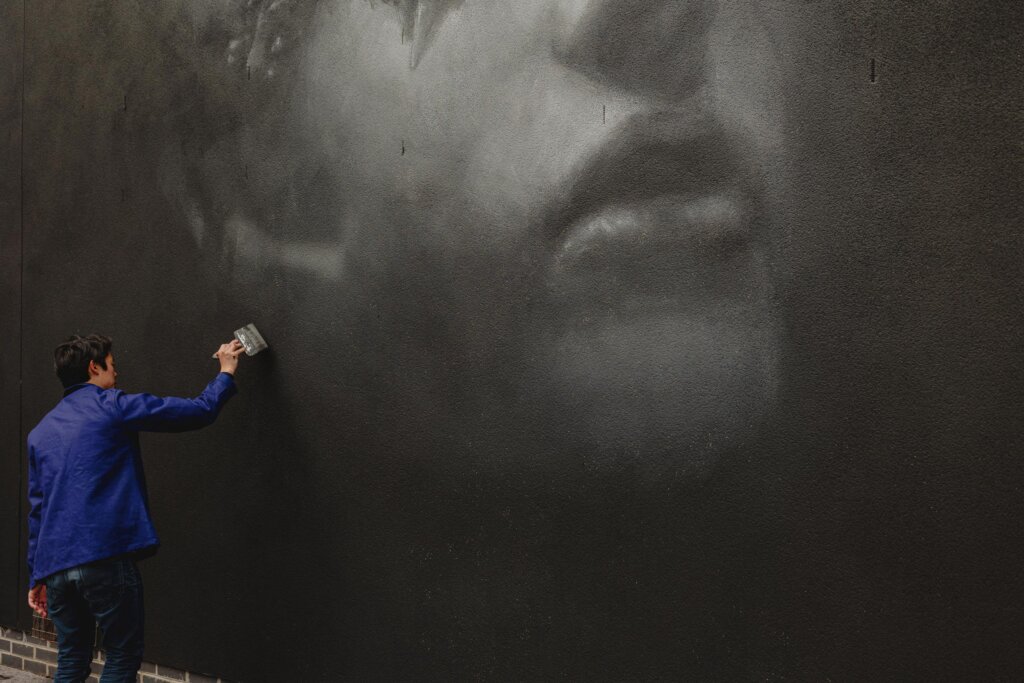 Reconnecting to Aberdeen for the second time are Stencil-art muralists SNIK. They linked their new mural on the bridge to their mural in Stavanger, Norway, for Nuart 2018, reconnecting across the North Sea. The mural is ephemeral as the market and bridge will be soon demolished for redevelopment.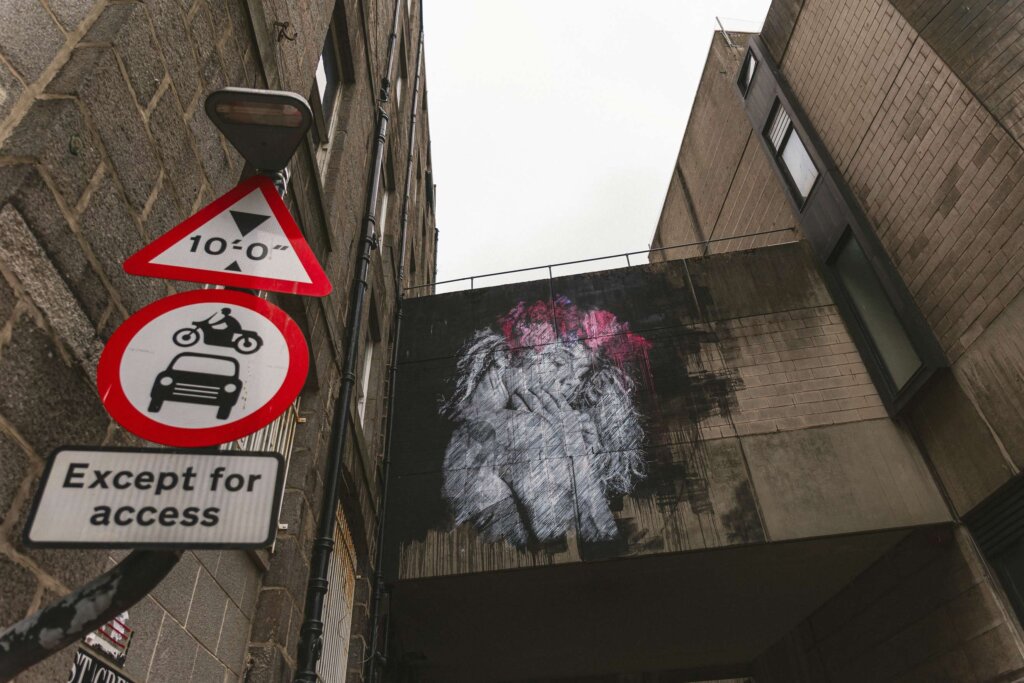 "The concept behind this piece was 'twins in twin cities. Stavanger and Aberdeen are twinned, so it felt fitting to paint a mural to match her Norwegian counterpart." SNIK Instagram
London based artist Fanakapan's painted his 3D effect street balloons. For Aberdeen, he painted 'Pulling Faces'. Two large smiley faces, one encouraging the viewer to don 3D glasses and see the balloon 'pop' from the wall!!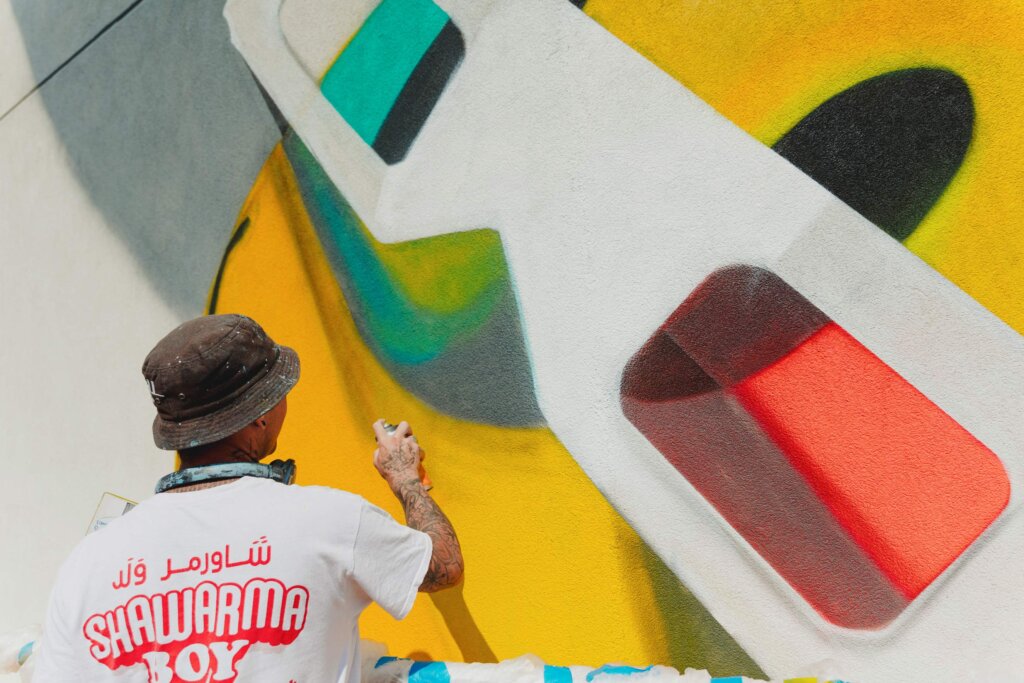 Currently, Nuart Plus and the walking tours won't happen, but Nuart hopes the new mural arrivals will help people reconnect with Aberdeen, and leave with a big smile on their faces. 
Photo credit Nuart 2021 Clarke Joss Clarke Joss Photography and (Instagram)
Comments
comments