Street artists are utilising their exceptional talent and creativity to bring attention to critical social and political issues that affect our society, ranging from environmental degradation to systemic racism, from gender-based discrimination to human rights violations.
In this article, you'll discover ten extraordinary street artists using their artistic talents to ignite change. These artists employ various mediums and techniques, including spray paint, stencils, wheat pastes, photography, and even trash. Despite the unique approaches, these artists share a common goal: to use the power of art as a catalyst for change.
1.
Banksy
Banksy is an elusive English street artist who has become one of the most famous street artists in the world. He is known for his politically charged and thought-provoking street art, often addressing issues such as war, consumerism, and government surveillance.
Along with Banksy's street work, notable projects include Banksy's Dismaland, which was more than just an art installation – a powerful act of activism. By creating a dark and twisted version of Disneyland, Banksy tackled important social and political issues in a way that was thought-provoking and entertaining. The installations at Dismaland addressed topics such as consumerism, capitalism, and immigration.
Banksy – Dismaland. Image © GraffitiStreet.com
In 2017, Banksy took his activism to the next level by opening the Walled Off Hotel in Bethlehem. The hotel is just a few metres away from the West Bank barrier wall and is a living work of art in every sense. Each hotel's room features politically charged murals and installations, and the hotel also includes a museum and gallery, making an immersive and educational experience. By opening the Walled Off Hotel in such a significant location, Banksy can make a powerful statement about the situation between Israel and Palestine while offering visitors a chance to experience life beyond the wall firsthand.
Banksy – Love is in the Air (Flower Thrower) Image © GraffitiStreet.com
2.
JR
Another powerful example of street art as activism is the work of the French photographer and street artist JR. He is known for creating large-scale public art installations that often address issues of social justice and activism. His work can be found in cities worldwide.
One of his most famous projects is the "Inside Out" campaign, which invites people to share their portraits and stories in public spaces. These portraits serve as a powerful expression of community identity and shared values, creating a stunning work of public art that inspires and unites people; it is a powerful tool for community activism and social change that can transform entire communities and spark global movements.
Image © Wiseknave for Branded Arts
Another notable project of JR is the "Women Are Heroes" series, a powerful project that showcases portraits of women from conflict zones. These women often bear the brunt of war, crime, rape and fanaticism, and yet they demonstrate incredible strength and resilience in the face of adversity. JR highlights women's vital role in society through his project, capturing their dignity and grace in their everyday lives. These magnificent photographs are displayed in various locations, from small villages to bustling cities, and even globally. JR's ultimate goal is to promote inclusivity and compassion in society, and his art is a powerful medium for achieving this.
Women Are Heroes, Rio, 2008 Image © JR
3.
Shepard Fairey
Shepard Fairey is a well-known street artist and graphic designer who has used his art to create social and political awareness for over three decades. Fairey is best known for his iconic "Obey" street art campaign. The Obey campaign was a statement against the power structures that control our lives, encouraging people to question authority and resist conformity. The campaign's message has inspired countless street artists worldwide to use their art to create social and political awareness.
Image © Robert Skran
Fairey's murals and works challenge establishments and highlight historical happenings through layered imagery with an impact, creating unforgettable pieces that evoke hope rather than division. His images have become an invitation for activism. Fairey's ultimate goal is to create work that can grab people's attention outside their usual patterns and encourage them to think about things that impact them, society, or the rest of the planet.
Image © Shepard Fairey
4.
Blu
Blu is an incredibly talented street artist from Italy who has garnered international acclaim for producing captivating and thought-provoking works of art. His creations often explore complex themes such as capitalism, consumerism, war, and environmental destruction and are known to challenge viewers to think deeply about the world around them.
One popular mural showcases a businessman wearing a gold crown adorned with logos of petrol companies, holding the globe in his hands while sucking on a straw that extends deep into the world he grasps. The mural is a powerful commentary on how the world's reliance on fossil fuels affects the planet and its inhabitants. Blu intends to highlight these companies' immense power and influence in the global economy. The gold crown on the man's head symbolises these companies' wealth and authority, enabling them to shape the world in their favour. Blu's artwork is an indictment of the world's exploitation of the planet's resources for selfish gain, regardless of the consequences. Like all of Blu's murals, they are a call to action for us and big corporations to take responsibility for our actions and work towards a sustainable future.
Blu. Image © Blu
Blu's unique style results in visually stunning and intellectually stimulating pieces. His intricate and detailed works can be found in cities around the world. In the face of potential financial gain, Blu has been observed to take down his street art pieces to safeguard his artistic integrity and prevent commercial exploitation of his work. Read more here.
Image © Blu
5.
Saype
Saype is a Swiss street artist who has gained international recognition for his large-scale murals and installations that explore themes of human connection, environmentalism, and social justice. Saype's art is characterised by his use of biodegradable paint and his commitment to creating works that promote sustainability and social activism. One of Saype's most notable works is the "Beyond Walls" project, which consists of interconnected hands to symbolise the importance of global unity and solidarity. Read more here.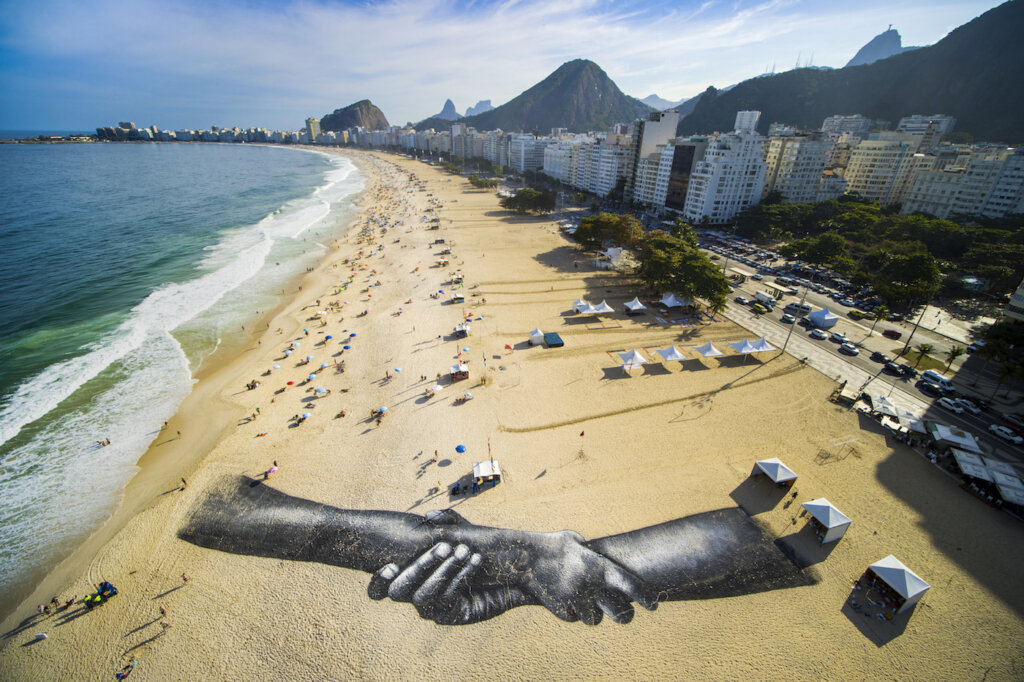 Image © Saype
Saype also paints massive landart installations, which are visually stunning and carry a powerful message of environmental responsibility. Saype's artworks are made with eco-friendly materials centred around issues like water protection and solar power to inspire people to reflect on the importance of sustainable living. One of his recent land art projects was painted next to the beautiful Lake Geneva and featured a discarded plastic bottle, which he transformed into a thought-provoking work of art. Saype's art represents a fusion of creativity, environmental awareness, and social responsibility, making him a true visionary in the urban art scene. Read more here.
6.
Icy and Sot
The Oskouei brothers, Saman and Sasan, also known by their street artist names Icy and Sot, are Iranian artists renowned for their incredible multidisciplinary work that deals with political and humanitarian issues. The brothers have now established themselves as socially responsible artists in the bustling metropolis of Brooklyn, New York, where they produce thought-provoking, collaborative pieces worldwide that aim to inspire and uplift human consciousness.
Their journey to becoming the renowned artists they are today was not without challenges. In 2012, the brothers fled their hometown of Tabriz and sought political asylum in the United States. In their new home, Icy and Sot turned to public street art, sculptures, murals, and installations to express their views and inform the public about crucial topics. Their work is characterised by a positive and unyielding tone that seeks to motivate and uplift the human spirit. Read more here.
Image © Icy and Sot
7.
Hyuro
Hyuro legacy continues to inspire artists and activists alike—an Argentinian street artist known for her politically charged and feminist murals, Hyuro painted herself a significant role within the international mural art scene, which is primarily male-dominated. Known for her poetic feminism and large-scale art murals, she empowered women. She touched on social justice and political issues delicately and artistically in her wonderful, subdued, and earthy palette. Her art is known for its thought-provoking messages that challenge the status quo and inspire viewers to think critically about the world around them. Hyuro extensively travelled worldwide with impactful murals, painting across Europe, Argentina, Brazil, Mexico, the United States, Morocco and Tunisia, with most of her murals concentrated in Valencia until her passing in 2020.
Her mural in Belo Horizonte, Brazil, titled, ¨O que fica/ What Remains, ¨speaks about abortion and the deaths due to clandestine abortions and poorly done procedures. Poorer women represent a disproportionately high percentage of those who die, fall ill or face criminal charges when trying to interrupt a pregnancy. In Brazil, lawmakers introduced measures to ban abortion altogether. Few policies advocate legalization or decriminalization. Those activists who do so frequently are threatened or socially repudiated. Read more about Hyuro murals here.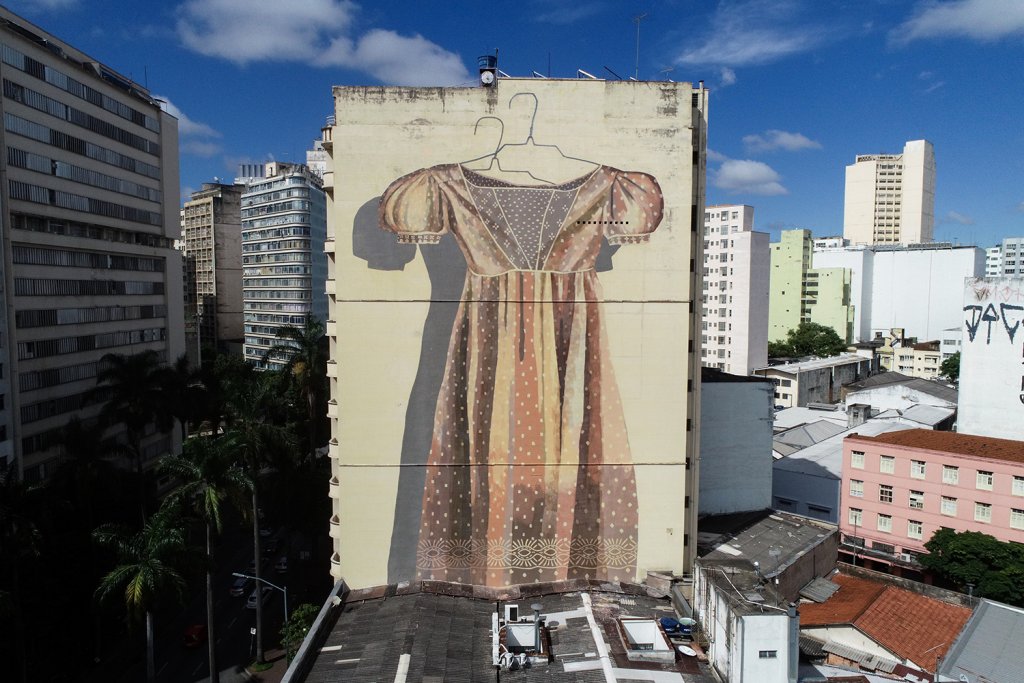 Image © Hyuro
8.
Escif
Escif is a Spanish street artist who uses his art to bring attention to social and political issues. He has gained recognition for his thought-provoking murals that challenge the status quo and encourage people to question their surroundings.
His work often addresses the economy, government corruption, social inequality, and environmentalism. Through his art, Escif aims to inspire people to think critically about our world and take action to create a better future. His murals are a testament to the power of art to bring about positive change, as he masterfully blends activism and creativity in his work. In one of his notable pieces, 'Money Laundering,' Escif exposes the unethical practices of producing low-cost clothing in deplorable conditions. The mural's imagery vividly illustrates the harsh realities of cheap labour, urging viewers to take action towards more ethical and sustainable consumption practices.
Image © Escif
Escif has collaborated with Banksy, resulting in an impressive collection of artworks, including a sculpture of Escif's mural prominently displayed at Banksy's GDP store.
Image © Banksy
The sculpture is inspired by the original mural by Escif, which portrays a tree stump and the wooden axe tool used to chop the tree down is slammed into the stump, creating a haunting image of the devastating impact of human activity on the environment.
The sculpture is a faithful adaptation of the original mural by Escif, vividly capturing the aftermath of a tree felled by a wooden axe; the tree's stump, with its rough and gnarled surface, seemingly frozen in time. The wooden axe embedded in the stump appears to be a poignant reminder of the destructive impact of human activity on the natural world. Together, the sculpture and the mural serve as a powerful commentary on the urgent need for environmental conservation and sustainable living.
However, the emergence of a small green shoot from the wooden axe is a powerful symbol of hope and potential for regeneration despite the dire consequences of deforestation. The inclusion of the green shoot in the sculpture is also a testament to the resilience of nature to regenerate itself and a poignant reminder that nature will persist long after humans have ceased to exist.
Image © Escif
Escif's mural is an evocative reminder of the pressing need for ecological balance and the potential for renewal, even in the face of devastation.
Image © Escif
9.
Bordalo II
Portuguese artist Bordalo II is mainly known for his large-scale sculptures of animals, which are made entirely from trash materials and plastics. His work addresses waste and environmental destruction issues and has been featured in cities worldwide. His "Big Trash Animals" series features sculptures of animals such as chimpanzees, foxes, and even a raccoon, all made from discarded materials. The installations are placed in public spaces and serve as a reminder of the impact of human waste and pollution on the natural world. Read more here.
Bordalo II's "Provocative Art" series is a testament to his deep concern for human rights, animal welfare, and social injustices. Through his "Provocative Art" installations, Bordalo II hits the streets with powerful installations that bring attention to vital issues, such as the cruel practices of bullfighting, the harsh realities of women trafficking, addresses the Palestinian cause and also concerns surrounding social media and privacy. Read more here.
Bordalo II's work is both creative and impactful, encouraging people to think critically and inspiring people to address these issues rather than passively accepting the status quo.
Image © Bordalo II
10.
Ernest Zacharevic
Ernest Zacharevic is a talented artist known for his thought-provoking and socially conscious art. His works often involve interactive installations encouraging viewers to reflect on critical social issues. His work is a powerful reminder of art's role in promoting positive change in the world.
Ernest Zacharevic's creative interventions are powerful and impactful, with his "Splash and Burn", "Haze" and "SOS" installations aimed at combating the effects of conflict palm oil, protecting wildlife and urging authorities to hold polluters accountable.
Image © Antoine Loncle
Zacharevic has brought attention to critical issues and inspired positive change in the world.
Image © Ernest Zacharevic
Inspire Change
Street artists are making a positive impact by using their creative talents to bring attention to important social issues. Their artwork has the power to reach a wider audience than traditional forms of art, and it serves as a catalyst for meaningful conversations and positive changes in society.
By creating thought-provoking and visually stunning pieces, these artists challenge conventional beliefs and inspire people to think critically about the world around them. Whether it's addressing issues related to social justice, inequality, or the environment, street art has the ability to spark important conversations and contribute to the creation of a fairer and more equitable world.
Comments
comments