Sorry, there are no "Joachim - Walk in The Park 1/1" left. All others are either sold or being held in other buyers carts. Buyers have 10 minutes to checkout, after which it may become available again.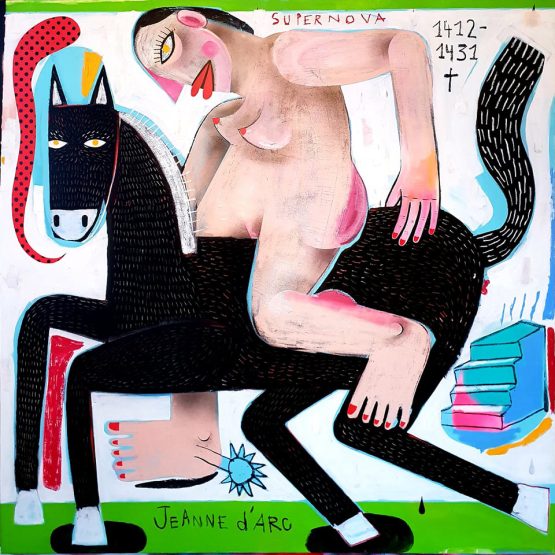 Joachim – Jean D'arc 1/1
Medium: Oil and spray paint on canvas
Edition: Unique 1/1
Size: 150 x 150cm
Description: Signed on verso, accompanied with a Certificate of Authenticity
Year: 2019
Only 1 left in stock
Product Description
When Joachim was a child, he learned about 'Jeanne D'Arc' during one of his history lessons. Her story and her actions left a lasting impact. Joan of Arc (1412 – 1431), nicknamed 'The Virgin of Orleans', is a national heroine of France. As a young girl, she played a decisive role in the Hundred Years War between England and France. At the age of nineteen, she was sentenced by a partisan church court and died at stake. Twenty-five years after her death, Pope Calixtus III had the trial reviewed. She was found innocent and was given the title of a martyr at the verdict of her trial (July 7, 1456).
Comments
comments
---