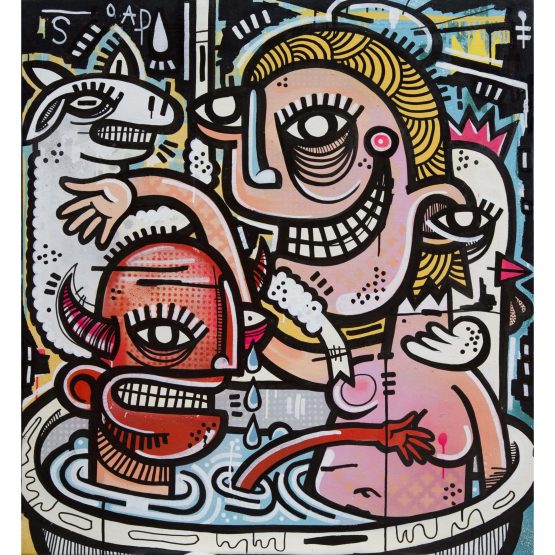 Joachim – The Bathroom Scene
Medium: Latex, acrylic, ink and spraypaint on homemade canvas
Edition: Original 1/1
Size: 100 x 110cm
Description: Signed by Joachim
Only 1 left in stock
Description
"The Bathroom Scene" by Joachim is a surreal depiction of a couple in a bathtub. The devilish figure, depicted as one of the couple, is washing the grinning lady, while the other parts of the painting add to the overall playful and mischievous atmosphere.
The bold and dynamic imagery, combined with the use of vibrant and contrasting colours, create a sense of movement and depth in the painting.
The artist's imaginative interpretation of the scene adds to its intrigue, leaving the viewer wondering about the symbolic significance behind the sheep and the hen.
"The Bathroom Scene" by Joachim was displayed and sold at Hoxton Gallery in Shoreditch, London, as part of the GraffitiStreet Underground exhibition 2016.  This piece is now being resold through us.
---