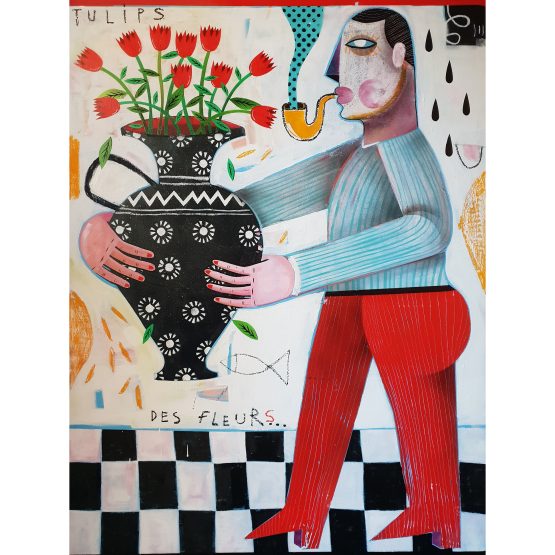 Joachim – Man With Tulips 1/1
Medium: Oil and spray paint on canvas
Edition: Unique 1/1
Size: 120 x 160cm
Description: Signed on verso, accompanied with a Certificate of Authenticity
Year: 2019
Only 1 left in stock
Description
In 'Man With Tulips' artwork, Joachim has masterfully captured the essence of a vase overflowing with brilliantly vivid red tulips. This piece marks the inception of a recurring theme in many of his subsequent works, with the vase and flowers often taking centre stage in his compositions. One of the most prominent examples is the painting 'Red Vase and Flowers'.
The artwork titled 'Man With Tulips' holds special significance as it represents a pivotal moment in Joachim's artistic journey. It is widely considered a turning point where he shifted his focus from painting human figures to delving into still life as his primary subject.
Joachim portrays a man confidently holding the vase as he takes a giant stride, symbolising the artist's unwavering confidence in his evolving artistic skills and creative vision. The man's posture and demeanour further reinforce Joachim's artistic growth as he explores new techniques and themes, marking a significant shift in his style and creative approach.
This piece is a testament to Joachim's mastery of colour and form and a remarkable representation of his artistic evolution.
---