Here is our recap of the best 'street art projects with more impact' of 2021 month by month…
Artist Saype visits Cape Town, warmly known as the Mother City, to represent the ninth stage of his global artistic project "Beyond Walls" initiated by the artist in June 2019 in Paris. The "Beyond Walls" project aims at creating the largest symbolic human chain around the world, promoting values such as togetherness, kindness and openness to the world. We love seeing the human chain spread kindness around the world …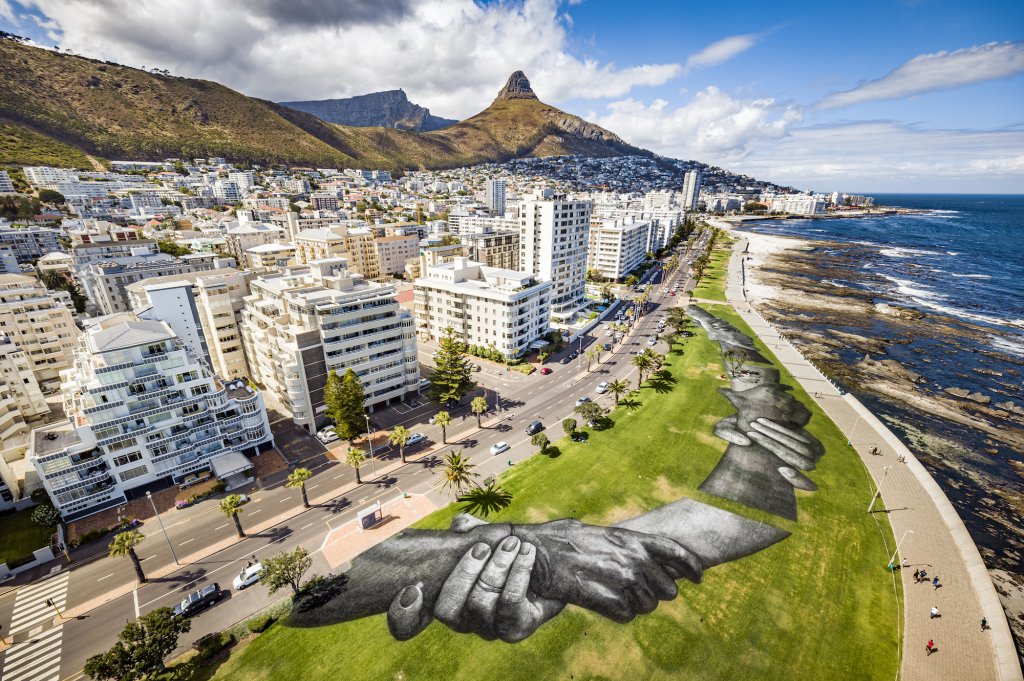 To kick-off, the International Year for the Elimination of Child Labour, the Free Children campaign, curated by Street Art for Mankind, set about getting the message out on 100 billboards in New York City and online. Artists involved were Ador (Fra), Adry del Rocio (Mex), Cristian Blanxer (Esp), JDL (Nld), Loic Ercolessi (Fra), Lula Goce (Esp), Mister Thoms (Ita), PichiAvo (Esp) and Victor Ash (Dnk) and used their artist skills to spread the message …
Japanese, New York-based street artist DRAGON76 painted a mural in East Village, Manhattan, supporting the "STOP ASIAN HATE" movement.
"Zero Hunger" by Victor Ash was created to support the mission of the United Nations world food programme. It was part of 6 Zero Hunger Murals that Street art Mankind created to raise awareness and mobilise action to combat worldwide food insecurity and, in the US, food injustice that disproportionately impacts African-Americans communities.
Conversations From Calais document conversations between volunteers and migrants and pastes them onto city walls to re-humanise the refugee crisis. The collaboration with Build Hollywood saw these simple yet thought-provoking conversations take over billboards for the first time in eight UK cities.
"This mural shines a light on the vital role of ecosystem restoration in tackling climate change and food system instability, while also supporting natural freshwater and public health. Ecosystems are essential for all life on Earth however human activity has significantly depleted them. In fact, the world loses enough forests to cover a football pitch every three seconds. We must focus on restoring nature. Conservation is no longer enough.
This mural is for the youth, the world they will inherit, the challenges they will face, and the leading role that is thrust upon them in ensuring a more sustainable future. With the greatest fires this world has seen on the horizon, our youth's struggle will be for all life on this planet" AARON LI-HILL
…
Adnate has worked closely with indigenous people of their native land, especially with Indigenous Australians. He paints large scale murals around Australia and the world, creating a statement of reclaiming the land that was always theirs. He endeavours to capture the stories and emotions of each subject he paints, encouraging the audience to feel through their own experience. In July he painted a portrait of Stan Grant, a young girl and a portrait of local elder Aunty Loretta… a huge wall highlighting indigenous leadership both locally and nationally.
Banksy confirmed he was behind the number of artworks that appeared in seaside towns on the east coast of the UK this summer. With many more families staying home in 2020 due to the pandemic and travel restrictions, Banksy turned the staycation into a fabulous Spraycation.
FEARLESS/ 'Abhaya' was a bronze tiger sculpture by SA artist Sonny that was installed at the United Nations HQ in New York and is a celebration of the resilience of the tiger.
"After a century of decline, wild tiger numbers are starting to increase. But, it's important to remember that threats to tigers are ever-present. This is why the tiger is depicted in motion, jumping forward into the future; a future that relies so heavily on the actions we take today. As the tiger jumps it's breaking away, symbolic of the fragility of the species, while the splashes of oranges and purples are a symbol of hope and a reminder of the colour these animals bring to our world." #sonny
…
October 15th is celebrated all over the world as the Day of the Blind and Visually Impaired, the first 3D models of murals for blind and visually impaired people were set up in Belgrade at two locations. These 3D models are a game-changer and it would be great to see more of these around the world .
Right now, plastic pollution threatens biodiversity and marine life, food safety, human health and coastal tourism. By 2050, the World Economic Forum believes our oceans will contain more plastic than fish. The Museum of Plastic provided a hopeful peek into what life could look like if we curb climate change now. It reflects humanity's history and future with plastic and is part of the United Nations Climate Change Conference of the Parties (COP26), which is underway in Glasgow, UK. Here is one of the murals that caught our attention …
Bordalo II created Plastic Mom and Baby Monkeys in Miami, USA at Wynwood walls official. The sculpture is made entirely from trash and forms part of his big trash animal series that highlights waste production, plastic pollution and one use products that are polluting the world and killing our animals. The sheer size of this sculpture speaks volumes …
Happy and healthy new year to all our followers.
With love,
Team GS.
Comments
comments