This blog post will explore ten fascinating facts about Stik and his impact on the art world and society. Stik's journey from homelessness to celebrated artist has captivated the attention of many. His signature style of drawing stick figures has not only gained recognition from high-profile collectors but has also been used to support charitable organisations and as a symbol of protest and solidarity. Join us as we delve into the world of Stik and discover what makes him such a remarkable and influential artist.
1.
Overcame Homelessness
Stik was unfortunate enough to be homeless in the early noughties for almost a decade. In 2009, he moved to St Mungo's Hostel, a Hackney shelter.
"It was the Hackney community that helped me get back on my feet. It was squatting and, eventually, social housing which enabled me to gain a foothold and get back to a decent standard of life. Street art was my way of giving back to the people who helped me."

Stik
…
Image © Street Art London
2.
Six-Lines-Two-Dots
"When I started painting in the street, I soon found out that using just six lines and two dots was the quickest way to paint a human figure without getting caught."

Stik
Stik's signature style emerged during his early twenties when he began painting on the streets of East London. He perfected a quick and effective way of painting human figures using six lines and two dots. This simplistic style of drawing allowed him to convey emotion and capture the essence of his subjects with ease. Stik's talent for drawing stick figures and his fascination with the Japanese calligraphic characters, or kanji, significantly developed his unique style. Despite never attending art school, Stik honed his skills in composition and anatomy through his work as a life model for other artists.
Stik – 'Walk' Screen Print 2012
3.
Recognition by High-Profile Collectors
Stik's art has been so well-received that it has even made it into the esteemed collections of notable figures such as Bono, Elton John, the Duke of Kent, and Brian May, to name a few. The fact that Stik's work has garnered such high-profile attention is a testament to the artist's remarkable journey.
…
…
4.
Highest Auction Record
The unique quarter-sized bronze maquette of the 'Holding Hands' sculpture in Hoxton Square went up for auction on 23rd October 2020 at Christie's in London as part of their Post-War & Contemporary Art Day Sale. The hammer price for this remarkable piece was a staggering £287,500, which far exceeded the estimated range of £80,000-£120,000.
"This project is intended to facilitate artists in East London to celebrate the diverse communities who live here."

Stik
Stik gifted all the proceeds to Hackney Council to create an exciting, groundbreaking public art fund that will commission artists across East London with an inclusive remit. Read more here.
Stik Holding Hands (Marquette). Image @ Christie's Auction House 2020
5.
The Power of Kindness
Stik is an artist with a heart full of generosity and has made a remarkable impact on society by auctioning his artworks for various charitable organisations. His selfless acts of kindness have helped numerous foundations, including the NHS, Big Issue Foundation, Cardboard Citizens, ARTification and the Refugee Council, to name a few. Thanks to Stik's contributions, these charities have made a significant difference in the lives of those who need it most. Witnessing Stik's art being auctioned off for hundreds of thousands of pounds to bring about positive change in the world is nothing short of inspiring.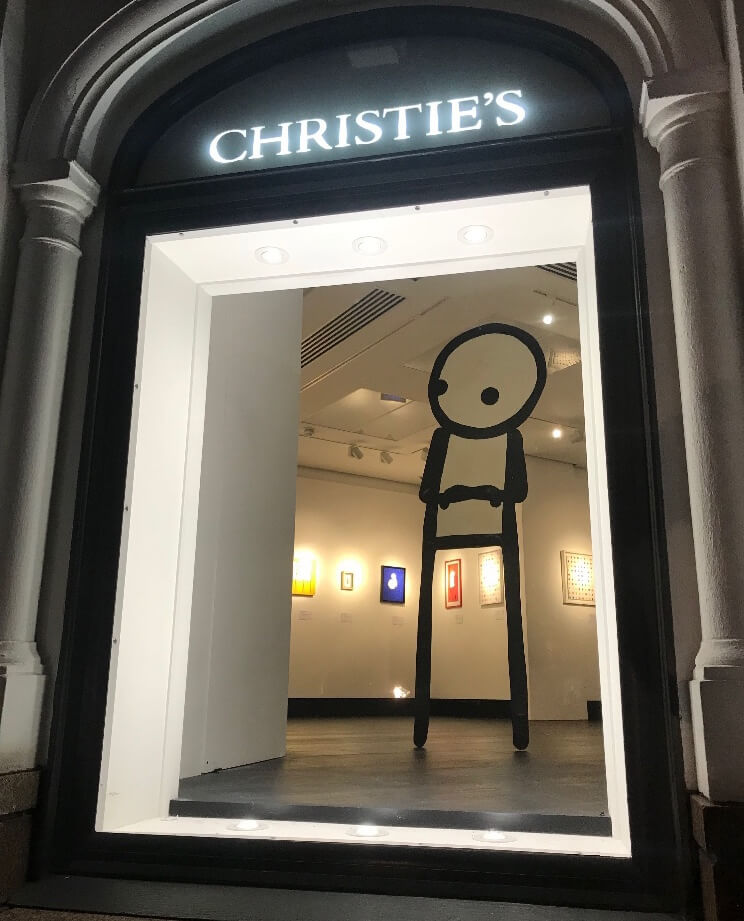 Stik raises money for charitable causes
6.
BIG Mother
"Big Mother" towered at a staggering 125 ft (38.2 meters) in Acton, commanding views from both the Piccadilly line and London flight paths. The mural was a poignant portrayal of social housing issues, depicting a mother and child gazing despairingly from their condemned council block at the towering, luxury apartment complexes surrounding them. Constructed in 1967 to provide housing for low-income families, the Charles Hocking House, where the mural was located, unfortunately, was demolished in the Autumn of 2018 despite its significant historical significance.
Stik salvaged the smaller mother and child figure painted at the mural's base, where it was placed in Phillips auction and sold for £193,750 ($247,500) with all proceeds to the local community arts charity ARTification that facilitated its creation in 2014.
Image © Stik
7.
Supporting NHS
In 2015, Stik took an inspiring initiative to support the UK's National Health Service (NHS). He created a series of unique artworks that shed light on the vulnerability of the NHS and its resources. One of his most notable artworks is a stunning mural of a sleeping baby painted on the walls of Homerton Hospital. The mural serves as a poignant reminder of the tireless efforts of the NHS staff and the importance of protecting the NHS. Stik's dedication to the cause went beyond just creating art. He took the initiative to raise funds for Homerton Hospital's rehabilitation and dementia program by selling 100 mural prints for £500 each. In addition, Stik auctioned off a full set of his artworks at Christie's in 2016, with all the proceeds supporting the cause. Stik's efforts did not stop there. He also collaborated with Junior NHS Doctors to protest against the proposed changes to doctors' contracts. The 'Sleeping Baby' mural was seen on the placards held by the doctors during the protest. Stik's actions showcase his unwavering dedication towards positively impacting society and his commitment to supporting the NHS.
Image © Homerton Hospital 2015
8.
From Collaboration to Recovery
In 2011, STIK collaborated with young people from Gdansk to create 'It's Complicated', a mural painted on shipping containers featuring numerous Stik figures interacting with each other, holding hands, and forming a beautiful tapestry of human connection. In 2014, the mural was removed without Stik's knowledge, cut into various pieces and sold without his consent for a staggering £30,000 each! Stik and one of the young artists, 'Miss Take', campaigned tirelessly for the next five years, calling for the mural's return to Gdansk. In 2019, the mural, now in parts, was triumphantly returned to Gdansk thanks to public support.
Image @ Stik
9.
Special Friendship
Stik and Thierry Noir share a strong bond forged through their need to create art quickly and illegally, using their signature simple styles and iconic characters. Thierry Noir is renowned for his rebellion against the Berlin Wall in April 1984, where he transformed and ridiculed it with his unique style, all while avoiding detection by East German soldiers stationed nearby. In 2013, the two artists collaborated on the Village Underground Wall in a project facilitated by Street Art London. They painted their iconic characters in a dialogue, the beginning of their friendship.
In addition to their previous collaboration, Stik and Thierry Noir joined forces again in 2019 to commemorate the 30th anniversary of the fall of the Berlin Wall. They collaborated with the Imperial War Museum to paint two original segments of the wall, marking the end of the Cold War on 9th November 1989. The piece, titled 'WALL', features two figures facing towards each other, representing the past and engaging with the present. Read more here.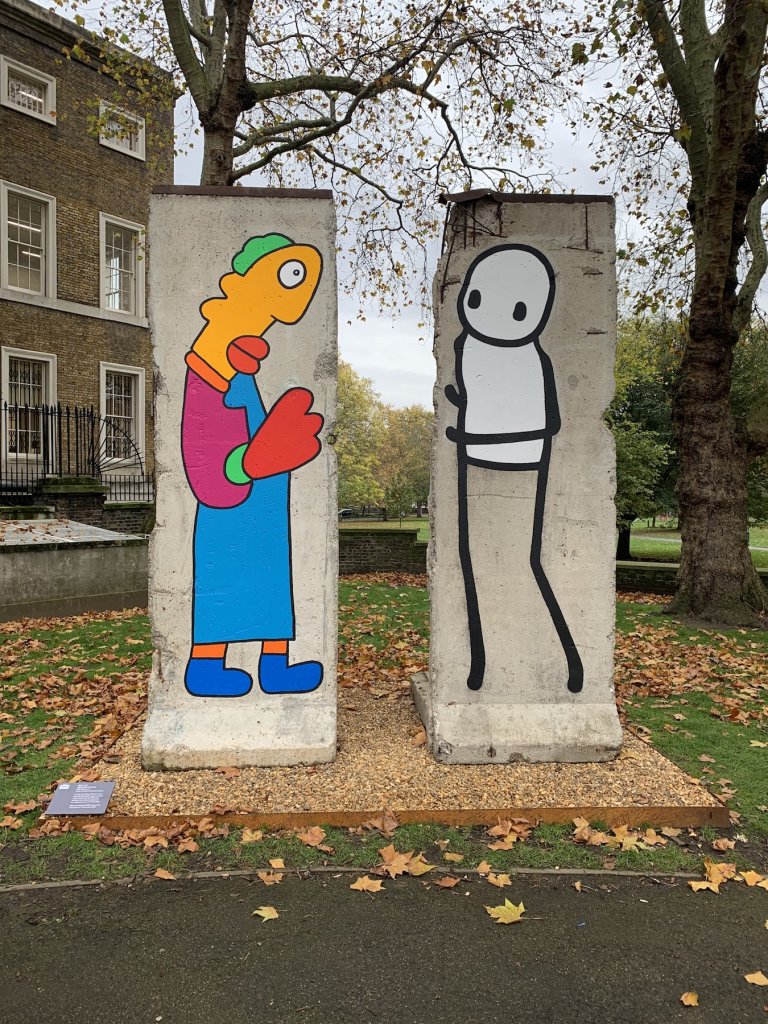 Wall by Thierry Noir and Stik, Image @ Graffiti Street
10.
The Magic of Christmas
The Phoenix Garden is situated in the heart of London – a vibrant community garden home to a stunning mural by Stik. The mural was carefully selected by none other than the acclaimed film director Paul Feig to serve as the backdrop for a romantic scene in his hit movie, 'Last Christmas'. Stik's signature minimalist style, combined with his ability to evoke powerful emotions through his art, caught Feig's eye and made the mural the perfect fit for his film.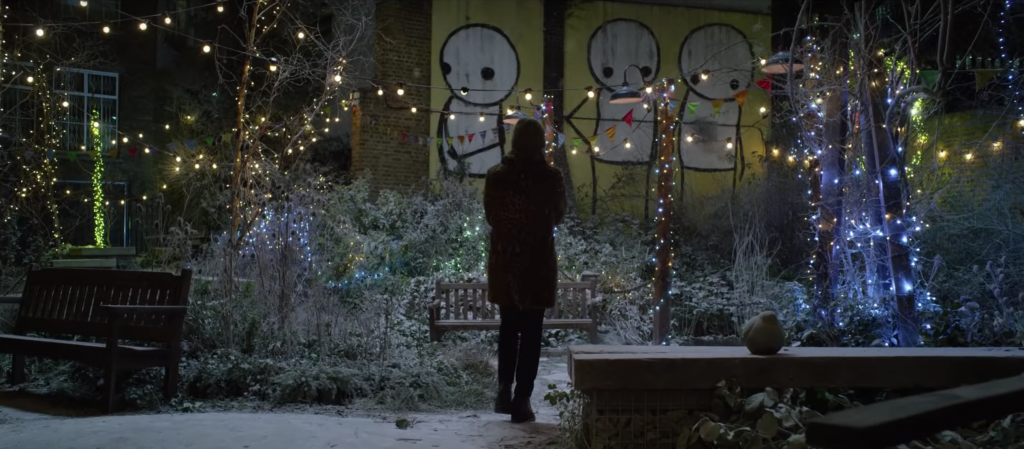 Last Christmas Trailer. Phoenix Garden, London 2019
Stik's journey is a remarkable tale of resilience, innovation, and compassion. Despite facing homelessness, he persevered and found solace in his art. His unique style, characterised by simple but powerful stick figures, has captured the hearts of art enthusiasts and activists alike. His art has been used to raise awareness of social issues and has become an emblem of hope for marginalised communities. Stik has become a beloved figure in Britain's street art scene, with his works adorning walls worldwide.
If you want to know more about the latest happenings with Stik, our news page is the perfect resource to stay informed. Should you be interested in acquiring Stik artworks, please visit our store.
Comments
comments