Invader gained notoriety for his daring and unconventional approach to public art in 1998, when he began plastering mosaic versions of the Space Invaders character from the 1978 Atari game on the streets of Paris, a move that immediately captured the public's attention. Today, Invader's popular 8-bit characters appear in cities worldwide, including Los Angeles, Hong Kong, Berlin, Tokyo, London, and Kathmandu.
Check out our compilation of 10 fascinating details regarding the elusive "hacker" of public spaces, spreading his unique mosaic "virus" worldwide… and beyond!
1-UFA
Invader is an Unidentified Free Artist (UFA) who prefers to maintain his anonymity by going by a pseudonym and covering his face with masks, thus allowing him to attend his own exhibitions incognito.
"Hello my Game is…", solo show, Musee en Herbe, Paris 2017. Image @ Graffiti Street
2-Invader 'Exhibited' in the Louvre Museum
In 1998, art enthusiasts witnessed a truly rebellious event that shook the Louvre Museum! Invader, with the help of a skilled photographer, managed to showcase ten of his space invader artworks at the world-renowned Museum. This daring invasion cemented Invader's reputation as a true hacker and earned him the rare distinction of being the sole living artist to exhibit his works at the prestigious and iconic institution.
Invader, Invasion of the Louvre with the help of a photographer, Dec 1998, Image @ Invader
3-The Invasion of Hollywood
"The Invasion of Hollywood" became one of Invader's most remarkable invasion missions. On December 31st, 1999, his first mission saw the mosaic on the letter D of the Hollywood Sign marking the Y2K bug. During subsequent trips to Los Angeles, Invader eventually placed mosaics on the eight other letters of the sign.
Date of invasion: 31/12/1999 D
Date of invasion: 10/12/2002 W
Date of invasion: 05/12/2003 HOYO
Date of invasion: 09/04/2004 LLO
The area around the sign is heavily secured, with a security system featuring motion detection and closed-circuit cameras installed by the Los Angeles Police Department in 2000. Any movement in the marked restricted areas triggers an alarm that notifies the police. Therefore, the invasion was an extraordinary and dangerous mission that resulted in a police arrest!
4-Invader Holds an Impressive Portfolio
The sheer scope of Invader's artwork is mind-blowing. With an impressive portfolio of more than 4,000 installations spanning 80 cities in 32 countries, his street artist mission is unparalleled. His invasion has gained so much recognition and admiration across the globe.
4000 Invasion, Bolivia. Image @ Invader
5-Invader's Beloved Scooter
Covered in stickers and spray-painted tags, Invader's beloved scooter has been a constant companion throughout his artistic journey and has played a vital role in his elusive art practice. It has even been featured in a limited edition print depicting Invader's scooter used between 1999 and 2005. It has become a street art graphic icon featuring tags and stickers by hundreds of fellow international artists who visited Paris during this time.
6-The Pioneering Artist behind Rubikcubism
Invader is the pioneering artist behind the Rubikcubism movement, revolutionising the art world with his innovative approach. Rubik's Cube, originally a puzzle, has been elevated to a significant element in art creation thanks to the emergence of Rubikcubism. Invented in the early 21st century, Rubikcubisim pays homage to the cube's role in the art world and was named by Invader as a nod to Cubism, its founders Braque and Picasso, and the cube's inventor, Ernő Rubik. Invader's Rubikcubism is a captivating fusion of pixelation and mosaics combined with 3D sculptural and 'painting' techniques. Read more here.
Invader amongst Rubik Cubes. Image @ Invader
7-Play Invader's Game
Once a work is completed, Invader records it as an "invasion" and creates accompanying maps and reference books to indicate the location of each piece. Invader made his own FLASH INVADERS game, where viewers get points for each Invader they capture on their smartphones! The Flash Invaders app has become a worldwide sensation among mobile gamers, attracting hundreds of thousands of hunters since 2014. Its premise is simple yet engaging, as players must explore various cities and capture pictures of street art mosaics created by Invader. The game offers over 4,000 tiled mosaics to collect across 80 cities worldwide, making it an exhilarating adventure for players. Read more here.
Flash Invaders Game by Invader. Image @ Graffiti Street
8-Mission Impossible
In 2014, Invader embarked on a Hong Kong invasion, leaving behind an impressive collection of 48 intricate artworks adorning various walls throughout the city. The artist hailed this invasion as one of his most successful endeavours. However, the city officials did not share the same sentiment and proceeded to remove several of the artworks, including a life-sized mosaic of the well-loved 1970s American cartoon character Hong Kong Phooey in the exclusive Happy Valley area. Now, 'unhappy Valley' as it sparked public outcry among citizens. With Invader commenting .."What message would you send to your citizens? What modern cultural heritage do you want to leave them?"
The ceramic mosaic, Alias HK_58 of Hong Kong Phooey, fetched almost HK$ 2 million (US$253,000) at Sotheby's in Hong Kong in January 2015!
Invader, Hong Kong. Image @ Invader
Invader has since returned to Hong Kong many times to continue his Invasion, where his invasions are a permanent feature and loved by all.
9-The Record-Breaking Auction Result for Invader Exceeds 1 Million $
Invader's artwork has gained immense popularity and appreciation from art collectors worldwide. In November 2019, a record-breaking price was paid for an Invader alias Tk_119 (2014), also known as Astro Boy, sold at Sotheby's New York for an astonishing US$1,220,000. This particular Invader depicted an android superhero character called Astro Boy, created by the renowned manga artist Osamu Tezuka. The character is shown flying over pedestrians on a Tokyo bridge in the Shibuya district, all in the unique 8-bit style of Invader. Astro Boy also made it into a screen-print titled "Astro Boys" by Invader.
Astro Boy by Invader. Image @ Sotheby's Auction
10-Love you to the Moon and Back
Invader must have been over the moon (pun intended) to receive an email from Thomas Pesquet in 2023, a French astronaut and fan of his work, offering to take one of his works to the moon. "Somehow, it made sense that his little aliens be up there in space, looking down at us," Mr. Pesquet explained. The power of art to connect people from diverse backgrounds is truly incredible, and moments like these highlight the impact that Invader has had on the world and even beyond.
L.E.D. Screen print by Invader
Bonus Fact –Invader Invades Space
In a remarkable move, Invader took his invasion beyond the confines of Earth and into the final frontier of space! With the help of the European Space Agency and astronaut Samantha Cristoforetti , Invader's iconic mosaic was launched aboard the European spaceship ATV-5 on July 29th, 2014, and eventually found its permanent home aboard the International Space Station (ISS) after months of waiting in zero gravity. Using his Flash Invaders app, you can earn 100 bonus points by flashing the ISS as it passes overhead! Read more here.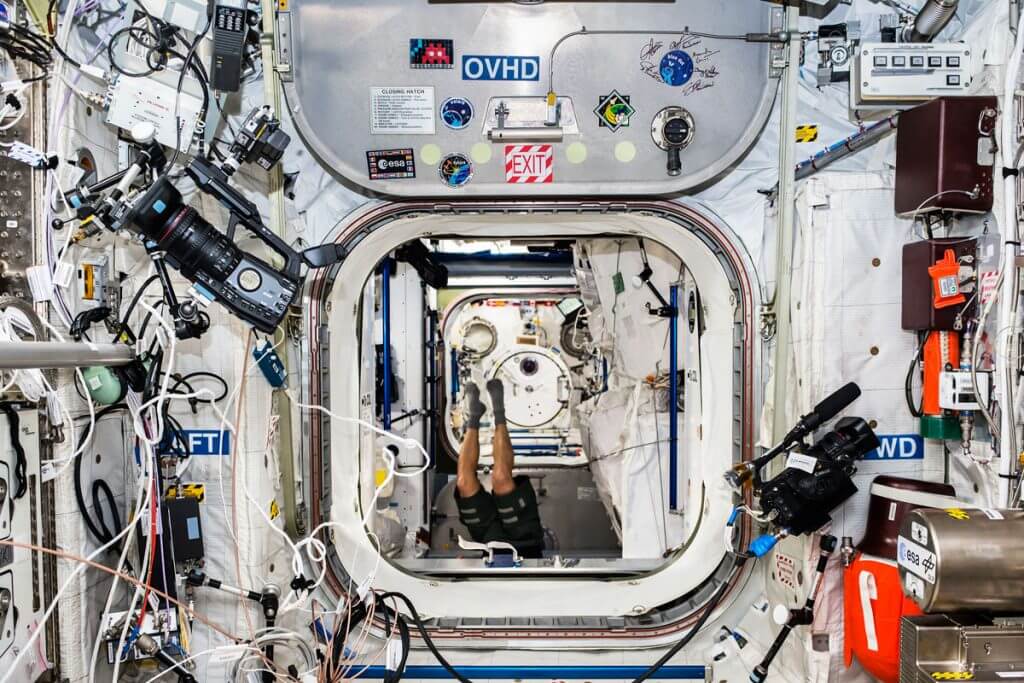 Invader has established himself as one of the most enigmatic and boundary-pushing artists of our time; his works are a testament to the power of art to connect people across the world and to transform the ordinary into the extraordinary. Invader's approach to public art truly celebrates creativity and imagination.
Using the Flash Invaders app, you can explore the streets and immerse yourself in the wonderful world of invasions. Alternatively, you can bring Invader's art into your home with our extensive collection of originals, kits, and prints in our online gallery.
Comments
comments