Pahnl
Living at a lower level of existence, Pahnl's miniature people, dogs, cats, birds and graffiti buffers can often be found outside, playfully interacting with spaces in the city.
The lowdown on Pahnl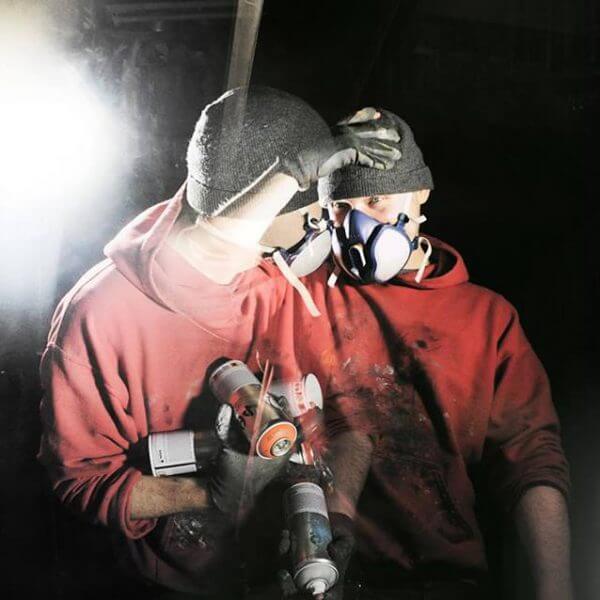 Birmingham, United Kingdom
However, at never more than 10cm tall, you'd be forgiven for missing them! Pahnl has been stenciling on and off the street for over a decade, and also makes use of stickers, posters, film, and photography to bring his cheeky world to life. He has even learned to manufacture his own vinyl toy from scratch.

Pahnl's debut solo show in 2013, 'Do Look Down', saw him create a sprawling miniature city stenciled directly onto the walls of the London gallery. Visitors were given a newspaper filled with articles about the painted city and were able to buy parts of the city for themself. His work has also featured in group shows across England, as well as shows in America, Australia, Canada, Germany, Israel, Italy and Russia. It has also been collected by the V&A Museum. Pahnl's work has been featured in print by The Independent (UK), The Sunday Times (AUS), Time Out (AUS) and American Society of Cinematographers (US). It has also been featured online by Adobe, Gizmodo, Wooster Collective and Vimeo.

Taking the term 'street art' literally, Pahnl always strives to make his work interact with its environment rather than simply sticking a pretty picture up in the middle of a wall without reason. Pahnl states that street art should show "I was here, not I was here". Pahnl might say he sees surfaces and spots in the street as 'comic panels' (hence his alias) to drop his characters into but feels that might be romanticizing the process a little too much.

Pahnl's work has a bold and playful sense of place when it's on the street. Studio work affords Pahnl the time to focus on the detail and craft of his art, whilst weaving a narrative through a scene. With the belief that "art changes when the world does", Pahnl doesn't seek to explicitly push a moral or political agenda. At the end of day, all he wants to do is bring an unexpected smile to your lovely face.

Pieces by Pahnl
Showing all 27 results
Latest from Instagram about Pahnl
Latest from the Blog about Pahnl
Pahnl's – Missed A Bit Print: Behind the scenes
GraffitiStreet 'Underground' Group Show in pictures
GraffitiStreet Underground pre group show on the streets of London
Underground Group Show Location revealed